Georgian wins European Championship medal
By Messenger Staff
Monday, January 25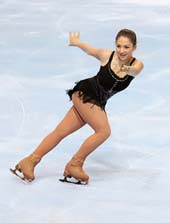 20 year old Elene Gedevanishvili won Georgia's first major figure skating medal at the European Championships on Saturday. She was the only skater to get more than 50 points for the technical content of her long programme. The quality of her spins and spirals and her fierce representation of Carmen earned her 103.72 (50.20/53.53) points, which meant that with a total of 164.54 she pulled up to third place overall to win bronze.
Gedevanishvili's previous best result at the European Championships had been fifth place. Georgian Culture Minister Nika Rurua attended the competition in Tallinn.
Gedevanishvili, who had started the day in fourth, slightly outscored gold medallist Carolina Kostner of Italy on technical marks, but was five points behind on components. Skating to some of "Carmen's" most tuneful segments, she landed a pair of double axel-double toe loops along with an early triple-triple-double toe loop cascade and seemed unfazed by errors that included stepping out of her opening triple lutz.
"Oh my God, this is totally unexpected. It means a lot to me," she said. Laura Lepisto of Finland, won the silver medal.