Government refuses to discuss Ukraine observers scandal
By Gvantsa Gabekhadze
Monday, January 25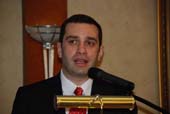 On January 22 Irakli Alasania, leader of the opposition Alliance for Georgia, called on President Saakashvili to summon an extended session of the National Security Council to discuss allegations that senior Georgian officials had meddled in the Ukrainian Presidential elections. However the President's administration turned down the proposal, stating that this demand was an attempt to use this issue to serve narrow political interests ahead of the local elections.
Alasania said that the Georgian public should be given complete information about the audio recordings broadcast in Ukraine, in which Interior Minister Vano Merabishvili and the Chairman of the Parliamentary Committee on Defence and Security, Givi Targamadze, are heard talking about sending soldiers and sportsmen to Ukraine instead of qualified election observers. "We have enough grounds to demand the summoning of an extending session of the National Security Council where we and the public will receive, and demand to receive, concrete answers to the questions of who planned this political adventure, and of course the issue of the responsibility of a number of officials for it should be discussed. What happened in Ukraine, concerning the Georgian observers requires an immediate reaction," Alasania said.
Some opposition parties agreed with the Alliance proposal. Eka Beselia, leader of the Movement for United Georgia, has said that "An Interior Minister or Chairman of a Parliamentary Committee on Defence and Security in any other country would have resigned in such a situation." She expressed a readiness to take part in an extended Security Council meeting. Salome Zourabichvili, Leader of The Way of Georgia, agreed. "It is not the business of any Interior Minister to deal with issues of sending observers – if they really were observers," Zourabichvili suggested. Her party has asked the Georgian and Ukrainian authorities to provide a full list of those the Georgian authorities submitted for registration as election observers. There have been allegations from the Ukrainian side that the list included many persons with no appropriate election experience, including employees of the Georgian Interior Ministry.
The Conservative Party and Movement for Fair Georgia however have said that they do not intend to participate in any extended Security Council meeting. They have said this would be pointless, as they were not going to just sit and listen to the Government's lies when Georgian –Ukrainian relations have already been damaged by this scandal.
Christian Democrat MP Levan Vephkhvadze, from the Parliamentary minority, said on January 22 that in general his party supported the idea of holding an extended NSC session on the issue of Ukraine. However he said that such a session, if held, should discuss not what the Alliance for Georgia wants to discuss, but what Georgia's policy should be if Viktor Yanukovich becomes President. "It is a difficult issue, because if a pro-Russian candidate [referring to Yanukovich] wins, this will be a signal to Moscow that it has settled the Ukrainian issue and now it's time to deal with Georgia," Vephkhvadze suggested.
The question of whether to participate in the elections or not was rendered moot by the President's administration turning down the Alliance for Georgia's proposal. It commented that, "Those politicians who have demanded holding a session of the National Security Council do not participate in these sessions themselves, refusing to take part in discussions of such strategic issues as the occupied territories and relations with Russia. Therefore the Alliance for Georgia's proposal is nothing more than an attempt to use the issue of the Ukrainian elections for its own political interests ahead of the local elections," the President's Spokesperson, Manana Manjgalaze, stated on January 22.
Manjgaladze added that the President of Georgia is ready to participate in discussions of issues which are of crucial, strategic and vital importance for the country. But at the same time he calls on the opposition not to use extended sessions of the National Security Council to further their own narrow interests.