Another Japanese project will clear landmines
Monday, January 25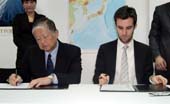 On 22 January a signing ceremony was held at the multipurpose hall of the Embassy of Japan in Georgia. The Ceremony was attended by H.E. Mr. Masayoshi Kamohara, Ambassador Plenipotentiary and Extraordinary of Japan to Georgia and representatives of the Ministry of Defence.
The grant contract was signed between the Ambassador and Mr. Patrick Thomson, the Project Manager of The Halo Trust, which is in charge of the aforementioned project. The purpose of this project is to clear the minefields in Mtskheta district and Sagarejo district by procuring necessary equipment for mine removal such as an armoured excavator and armoured loader as well as financing personnel costs for the mine clearance activity. It is expected that the people of Mtskheta, including tourists to that area, and residents of central parts of Sagarejo will be freed from the threat of accidental mine detonation. The scale of the project is 652,835 USD. About 500,000 people will benefit from this project.
"I would like to express my sincere gratitude to the staff of The Halo Trust. It is certain that nothing could have been done without their strenuous efforts to formulate the project," the Ambassador stated. "Actually, this is not the first time the Government of Japan has cooperated with the Halo Trust in Georgia. In 2000 the Halo Trust successfully implemented a mine clearance project in Abkhazia under the same grant framework. I am well aware of the fact that the Government of Georgia is actively working on mine clearance activities and I'm delighted that the Government of Japan can participate in these activities through implementation of this project," he added.
The Ambassador said that this project is more than six times larger than a usual grassroots project. "The Government of Japan decided to provide this assistance to Georgia for two reasons – first, it exactly concords with one of the main diplomatic policies of Japan, "Human Security", and second, we consider that mine clearance is essential for the prosperous future of the Georgian people. I sincerely hope this project will contribute to freeing the local people from the threat of becoming the victims of landmines," he concluded.
"The Grassroots and Human Security Grant Assistance Programme" contributes to relatively small projects undertaken by municipalities, medical institutions, academic institutes and NGOs which aim at the improvement of living standards of Georgian people suffering from hardship. Such projects might be implemented in the field of public health, medicine, elementary and secondary education, social protection and environment, poverty reduction and increase of income.
This grant assistance programme began in 1998. So far 94 GGP projects, including this one, worth 6,987,354 USD have been implemented in Georgia. The scale of Japan's ODA to Georgia is approximately 337,6 million USD in total, covering a wide range of areas such as improvement of the economic infrastructure, agricultural and social sectors, the cultural field and human resource development.