Treasures from Georgia's past now made available to all
By Messenger Staff
Wednesday, January 27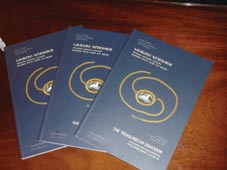 British Ambassador Denis Keefe held a book presentation on 26 January in his official residence. The book, The Treasures of Zghuderi, is an illustrated guide to the internationally important Roman period artefacts recovered from the burial grounds at Zghuderi, near Urbnisi. These include silver and jewellery from the second and third centuries AD and give a vivid insight into the wealthy lifestyle of the local elite, which matched that of the Iberian capital Mtskheta for at least three generations.
With the support of BP and the Georgian National Museum David Braund, Ketevan Javakhishvili and excavation team leader Guram Nemsadze have now produced a landmark work for scholars and the wider public which catalogues the finds item by item and sheds light on a significant time and place in Georgia's rich history.
BP's representative in Georgia, Neil Dunn, said that the company's assistance with this project was part of its wider commitment to support cultural projects in Georgia.