Noghaideli discusses greater links with Russia
By Gvantsa Gabekhadze
Wednesday, January 27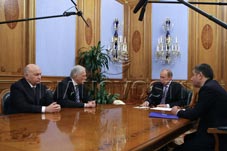 The Movement for Fair Georgia organised a conference entitled "Georgia Tomorrow- Foreign Politics" at the Betsy's Hotel on January 26 at which the country's relations with Russia and future foreign policy strategy was discussed. All opposition parties were invited to take part, however only two did so. Political analysts also attended the conference.
"Dialogue with Russia is very necessary, and that is why I will make another visit to Moscow in February and sign a document about negotiating with Edinaia Rossia (the governing party in Russia), Zurab Noghaideli, the Movement's leader, said. He mentioned that the teenagers detained in South Ossetia in December were released due to his negotiations with the Russian authorities. "Negotiations with Russia are very important at the present moment. I am going to continue collaborating with the Russian Government and give this an official form by signing a collaboration document with Edinaia Rossia in February. It has already been demonstrated that successful collaboration with Russia is more than possible," Noghaideli said.
Noghaideli visited Tskhinvali in connection with the detained teens on December 19 after visiting Moscow immediately prior to this. In Tskhinvali he also met the leader of breakaway South Ossetia Eduard Kokoity. His party's Press Office stated that his talks with Kokoity had been successful because the three Georgian teens were released the same day. Noghaideli accompanied released teenagers over the administrative border, but added that the Council of Europe's Commissioner for Human Rights, Thomas Hammarberg, and Russia's official Human Rights Ombudsman, Vladimir Lukin, who had also been in Tskhinvali, had played an important role in securing the release of the Georgian minors. Noghaideli also said that the restoration of direct flights to Moscow on January 8, 9 and 10 had resulted from his negotiations with the Russian Government.
Only the Conservative and People's parties accepted Noghaideli's invitation to attend the conference and they shared his viewpoint. Koba Davitashvili, Leader of the People's Party, stated that Georgia is not chained to NATO and is ready for neutrality if its territorial unity is restored. "if Russia conducts rational politics we are ready to listen to its conditions in order to resolve the present strained situation," Davitashvili stated. Kakha Kukava, leader of the Conservative Party, said: "Georgia should have normal relations with all its neighbours. Our country does not have the luxury of getting involved in wars against one of the largest countries in the world, we should try to eradicate the tension, not worsen it."
The other opposition parties say they did not attend the conference because they find Noghaideli's foreign policy strategy unacceptable. "We have our own viewpoint on foreign policy, which differs from Noghaideli's. On domestic issues, elections and some other important matters we are ready to collaborate with them, but not on this issue," Zurab Abashidze from the Alliance for Georgia has said. National Democrat, Bachuki Kardava was more blunt. "Those people who have connections with the Russian Government, which occupies 20 % of Georgian territory, help the enemy to carry out its goals in this country. That is why we will never accept these kind of persons' invitations," Kardava said.
Analysts also have differing opinions on Noghaideli's foreign policy orientation. Mamuka Areshidze says that "Dialogue and collaboration with Russia should begin, but as the opposition has no way to make this happen at present some agreement on this should be achieved with the Georgian Government." However the Analyst's Club says that Noghaideli's politics are unacceptable. "All the activities and statements made by Noghaideli are being directed by the Russian ruling forces and written in their offices," Levan Kiknadze, the Club's representative, has stated.