Bakradze tells Europe that Georgia is "relatively democratic"
By Salome Modebadze
Thursday, January 28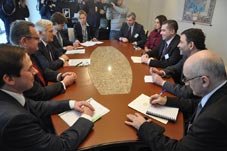 David Bakradze, Chairman of Parliament of Georgia, has said that the Georgian tradition of changing the Government by holding street rallies has came to an end.
"Relatively democratic rules of the game have now been formed in Georgia, which imply dialogue and cooperation between political parties. A strong opposition is very important for the country, as it furthers the establishment of the political system," Bakradze said at an enlarged Bureau session of the European Parliament's Foreign Relations Committee during his official visit to Brussels on January 26.
Bakradze outlined the ongoing events in the country and the democratic reforms being made and detailed the consequences of the Russian occupation and current conditions in the occupied regions of Georgia. "People are not being allowed to return to their homes. Those still in the region are the victims of the Russian occupation army, and violence from the separatists, every day. The European Union is still not being allowed to monitor the occupied territories while this is going on," he noted.
Bakradze also spoke about the coming local elections and the new Electoral Code in Georgia. He expressed the readiness of the Government of Georgia to cooperate with international organisations in monitoring these elections.
Jerzy Buzek, President of the European Parliament, highlighted that the European Parliament recognises the territorial integrity and independence of Georgia. He noted that it is important to retain an observation mission and extend monitoring on these territories. Bakradze expressed gratitude to Buzek for his support and underlined the significance of the European Parliament in the conflict resolution processes. The President of the European Parliament then expressed hope that the local elections in Georgia will be held democratically, and Bakradze asked the European Parliament to sent observers.
The Chairman of the Georgian Parliament summarised his meeting with the President of the European Parliament for the media. "Discussions have been held about security issues in the country and the involvement of the European Parliament in these. We know lots of resolutions have been prepared by the European Parliament about different problems in our country and we hope that the next document will fully reflect the current situation in our country," Bakradze stated.
"This is a very important session of the Foreign Relations Committee, as the Chairman of the Parliament of Georgia is personally giving information to his European colleagues about the current situation in the country. This will influence global political processes. All the discussions and recommendations made by the European Parliament will indicate to Georgia how it can best develop its policy," Davit Darchiashvili, Chairman of the Georgian Parliament's European Integration Committee, added.