Rehabilitation of Tbilisi continues
By Etuna Tsotniashvili
Monday, February 1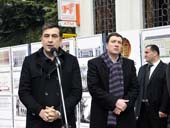 On January 29 Georgian President Mikheil Saakashvili and Mayor of Tbilisi Gigi Ugulava attended the launch of the project to rehabilitate one of Tbilisi's oldest streets, Davit Aghmashenebeli Avenue, which the President compared with those in Paris. This project will be funded from the state budget and seventy buildings will be reconstructed. The road surface, pavement and street lighting will be renewed.
In his speech Saakashvili said that due to a lack of political will, financial problems and some other obstacles that project could not have been undertaken before but now one more reconstructed district will soon appear. He emphasised that his opponents do not believe that the reconstruction of the city will end and they continually accuse the Government of destroying Tbilisi. "I wish someone had been similarly 'destroying' Tbilisi for the last dozens of years as we would be living in a much better and nicer city now," the President stated. "It is an obvious demonstration that our opponents are lying when they accuse us of ruining the city. This development is the example that we keep our word and we do what we have promised to do despite what our opponents say. Let them scold us, we'll keep on building and doing our business. Let them predict misfortune, we will create one of the best cities in the world, in which happy and employed people will live in comfort," Saakashvili said, adding that no one should be allowed to halt building projects.
Saakashvili addressed the workers employed in the reconstruction project and said that more people would be employed in it and the work will not stop. "Georgia has been declining for a long time, but we have a short period of time in which we can reverse this, restore everything and build a better Georgia," the President said, promising that Tbilisi will gain a perfect and comfortable city centre, like those in European cities.