Georgian Jazz singer to perform in Germany
By Messenger Staff
Tuesday, February 2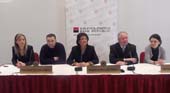 Well-known Georgian jazz singer Maia Baratashvili has been invited to perform at the Tollhaus concert hall in the German city of Karlsruhe on February 18. She will perform with famous Georgian ensemble Shin.
Maia Baratashvili's programme will include the compositions of Joe Zawinul, John McLaughlin and Stephen Sondheim and also Georgian folk songs. The concert will be sponsored by Bank Republic, part of the Societe Generale Group.
A special press conference was held by Maia Baratashvili and CEO of Bank Republic Gilbert Hie. In response to The Messenger's question Baratashvili said that in a certain sense the concert is an experiment which will give her more experience and express the possibilities of her skills and Georgian folk music combined. She plans to hold another concert on same lines and maybe a third.
Baratashvili is an acknowledged figure in the world of jazz and this is yet another opportunity for her to demonstrate her talent. Bank Republic and Maia Baratashvili have been cooperating for two years and as is known this cooperation has yielded some remarkable results for jazz lovers in Georgia and abroad.