Saakashvili attacks "political censorship" of First Caucasian
By Etuna Tsotniashvili
Wednesday, February 3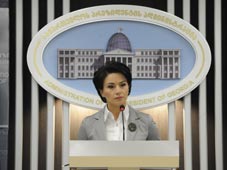 Georgia's President Saakashvili has responded to the recent scandal of Georgia's Russian-language First Caucasian Channel being taken off by its satellite provider, stating that this is "a very dangerous precedent of international political censorship."
At a February 2 briefing the President's spokesperson Manana Manjgaladze stated that the President hopes that in the home of democratic government the politicians and media will help First Caucasian return to air.
"This is the same as us switching off BBC or CNN or any French TV channel because we receive political signals. Moreover Russian stations are broadcast through western TV channels," Manjgaladze said. "First the expression of free opinion was blocked in Russia, then Gazprom began to try and control many media sources in the West and through this create a parallel reality. Now an alternative opinion is being blocked outside Russia so that Gazprom can sell its parallel reality as the only truth," the Georgian President's spokesperson said, adding that the President expresses his solidarity with the journalists of First Caucasian and guarantees their independence and his non-involvement in their journalistic affairs.
Georgian Public Broadcaster has accused satellite provider Eutelsat, which was hosting First Caucasian broadcasts, of selling out to Russian censorship, saying that Russia is behind the suspension. It said that Eutelsat's decision to retract its initial offer to host First Caucasian on its new W7 satellite was made due to a "lucrative offer" from Russian satellite company Intersputnik to provide broadcasts for a media unit of the state-controlled Russian Gazprom Media Group.
Eutelsat Spokeswoman Vanessa O'Connor has denied there was any Russian pressure. She told the BBC that "Intersputnik was an established client, not a new one," hoping that Eutelsat and First Caucasian would soon be able to agree a broadcasting contract.