Patarkatsishvili's family claims back all his property
By Messenger Staff
Thursday, February 4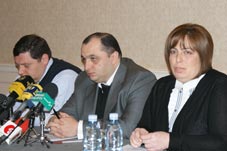 Nana Patarkatsishvili, sister of late Georgian tycoon Badri Patarkatsishvili, held a press conference with the family's lawyers yesterday to inform journalists about the decision of the Gibraltar court on February 1, under which 100% of the properties of Badri Patarkatsishvili's family which were claimed by their relative Joseph Kay (Ioseb Kakiashvili) were granted to the family.
Kay was forbidden to conduct any legal activities concerning the assets and made liable for the court costs of Patarkatsishvili's family. His personal assets were seized by the court, whose decision is final and cannot be appealed against.
Patarkatsishvili's sister explained that the Gibraltar court unanimously confirmed that Kay has no share in the assets owned by Badri Patarkatsishvili and his family and he has claimed these assets without having legal grounds for doing so. The family's lawyers informed journalists that all Kay's assets have been seized and he is forbidden from carrying out any sort of transactions or financial operations.
The lawyers added that a further case is underway in the Court of Arbitration in London. In answer to
The Messenger's
question they stated that some of the late businessman's assets in Georgia, such as Mtatsminda Park and Imedi TV, are special cases which will come under court discussion in the near future. "We are going to fight until we win," said Patarkatsishvili's sister.