Saakashvili tells schoolchildren to defend Georgia from the enemy
By Salome Modebadze
Thursday, February 4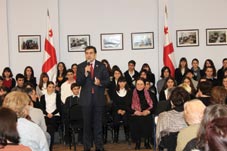 Georgia should defend itself from the enemy. This is the only way to survive, Mikheil Saakashvili, the President of Georgia, told his audience during a visit to Tbilisi School Number 189 on February 3.
"There are some people who believe that military-patriotic education is militarism and having an army in Georgia is a provocation. We should save Georgia from dying. We need dignity in order to manifest our main values and put our country above all other issues. Remember that each day of peace is our victory. Our internal problems should be resolved within our country," the President stated.
Saakashvili spoke about the ethnic and religious differences in the Georgian population, stressing that patriotism contradicts nationalism. "We have historical experience of the Soviet Union, whose Empire consisted of small countries with different values. We have now lost 20% of Georgian territory, but the whole world apart from the occupiers accepts that these regions are part of our country. These territories will only be lost when they becomes lost in your head and legally on paper.
"Everyone who holds negotiations with Russia acts against his own country. Russia needs supporters in Tbilisi to spread their thinking here. The invader wants to bring people into power who will recognise that these territories are lost," said the President in his briefing. "Georgia has an enemy which is opposed to our statehood. Of course their patrons realise that these kind of people will never win elections in Georgia, but what they want to achieve is to demoralise us; they want to seed enmity, or create an illusion that enmity is seeded within Georgian society and then to do the same as in 1921, when the Bolshevik Red Army invaded Georgia. But these people will fail to succeed," the President said.
"I also used to hold negotiations with Russia, but only in order to defend my country, not topple it. Russia was unable to occupy Georgia because we all stood together in Freedom Square. They were not ready then to send their well-trained puppets, which they are successfully doing now. Now they are preparing a relevant infrastructure for that scenario," Saakashvili said. "But this scenario will not work. The best way to deal with a bear is to take a stick and hit it on its head, or even better, use a pistol or a large calibre gun against him. These are all elementary rules for a country," he added.
"Russia knows well that Georgia's development means its(Russia's) irreversible failure. It knows that as soon as we finalise our development plans for Batumi, Kutaisi, Mestia, Telavi and Tbilisi, regaining control over Abkhazia and South Ossetia, which are temporarily occupied by Russia, will only be a matter of time and equipment. Russia has a specific view of us, so we should be able to defend our country," Saakashvili concluded.
"I want Georgia to be famous for its educational level. There are lots of successful Georgian public figures in the world with great achievements in their fields, and it is unfortunate that the world doesn't know their real origin.
"I feel really proud because I can resolve this problem as President, but as an ordinary citizen, I would also like to divide my salary between the two schools I studied at and I want to encourage every state figure to do the same. This will show how many of them have been a success in their fields because school is the place where we all were introduced to life," he added.
The President remembered how awful conditions were at School Number 189 in 2000. "I was absolutely shocked when I saw the untidy classrooms and dirty yard and left the building worried. This is the very school from which we began our repair programme, which is progressing throughout Georgia, and we are continuing our reforms in the educational system," Saakashvili told his audience.
The President said that the new educational reform has been quite fair but still has some shortcomings. He suggested restoring the competitiveness of schools in order to encourage both teachers and pupils to improve the quality of education. "I remember how successful this school was in the Soviet era. It was the first experimental school in the whole Soviet Union, so I suggest that it should be renamed the First Experimental School as it was in my childhood. I am proud that this is the school where I first studied and always had the highest marks," the President stated.
Saakashvili also highlighted the importance of English language and computer skills for modern society, saying that each person should do what's most profitable in both the local and international market. "Schools should establish specific values in order to promote Georgia and make it the best country of all. The introduction of ten final examinations is designed to promote all the main subjects and avoid the need for private preparatory teaching. School should give the child enough knowledge to enter a proper university," said the President.