British art comes to Tbilisi
By Messenger Staff
Friday, February 5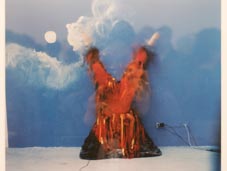 Would you like to see the works of Henry Moore or Damian Hirst or Anish Kapoor? The British Council, in partnership with the Academy of Arts, is offering such a unique opportunity to everyone interested in contemporary British art. From 4-12 February it presents an exhibition of works from the rich and versatile British Council collection at the Academy of Art's spacious exhibition hall, which has just been renovated with the support of the TBC Bank.
Rock, Paper, Scissors
is an exhibition of prints by sculptors in the British Council Collection dating from the 1950s to the present day. Looking at the artists featured, it is apparent that the process of printmaking, be it etching, screen print, linocut or lithograph, remains a very popular way for sculptors to develop ideas and expand their portfolios.
Rock, Paper, Scissors
aims to examine how artists have developed the interaction between the two and three-dimensional, as well as the possibilities offered by printed materials. It shows how prints have not only been used as studies for the development of sculptural works, they also offer a record of the original.
The exhibition, which features recent acquisitions, some of which are being exhibited for the first time, contains fine examples of graphic work by Henry Moore which he presented to the British Council on the occasion of our 50th anniversary in 1984. Georgian visitors will have a chance to view contemporary pieces by some of the UK's leading artists, such as Damien Hirst, Tracy Emin, Anish Kapoor, Mike Nelson and Anya Galacio alongside pioneering works by Eduardo Paolozzi and William Turnbull. Some of these names very well known worldwide; others still await international recognition; all of them have already made a statement of their own in the history of British art.
Paul Doubleday, British Council Director in the South Caucasus, notes in his introduction to the exhibition catalogue: "It is with great pleasure and excitement that I am presenting
Rock, Paper, Scissors: Works from the British Council Collection
to the Georgian audience. Why, because I believe that seeing, speaking about and even touching art allows us to explore our world, understand the other and maybe learn something about another's reality."
The British Council has been collecting works of art, craft and design for more than sixty years. Started in the late 1930s, the collection has now grown to become one of the most impressive public collections, with more than 8,000 artworks covering all media and all aspects of British art and design of the 20th and 21st Centuries. The British Council Collection has no permanent gallery and has been referred to as a 'Museum Without Walls'. The collection aims to promote the achievements and creative ideas of the UK's artists, craft practitioners and designers.
The exhibition of works from the British Council collection was opened at the Academy of Arts on 4th of February and last until 12th.