Tbilisi demands "immediate release" of Georgian citizen detained in Tskhinvali
By Mzia Kupunia
Friday, February 5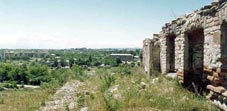 The Georgian Foreign Ministry has called on the de facto South Ossetian authorities to "immediately release" Malkhaz Akhvlediani, a resident of the town of Chiatura in the Imereti region. 43-year-old Akhvlediani was detained by the de facto South Ossetian militia at the village of Nikozi on January 31 and charged with "illegal border crossing." The de facto South Ossetian Interior Ministry has launched a criminal case against him. "Currently law enforcement bodies are investigating this case," the de facto Ministry said in a statement released on February 3.
The Georgian Foreign Ministry described the detention as "part of the chain of dangerous actions provoked by Russia." "These actions have taken on the form of a hunt for people," the Ministry's statement reads. "Despite the agreement reached at the Geneva talks and the Incident Prevention and Response Mechanism meetings that citizens who accidentally cross the administrative border will be freed, Akhvlediani has not been. This is a violation of the already reached agreements," the Foreign Ministry said.
Earlier on Wednesday the Georgian Interior Ministry also called for the immediate release of the detained Georgian citizen, also calling his detention "a violation of international agreements". The Kremlin is fulfilling "insidious plans" to aggravate the situation in the regions adjacent to the occupied territories through its "puppet regimes," the MFA statement reads.
De facto South Ossetian leader Eduard Kokoity has accused the Georgian authorities of "increasing their military presence" close to the administrative border with the de facto republic. He suggested that an aggravation of the situation is expected in the upcoming Spring-Summer. "Re-militarisation is taking place in Georgia, its military potential is now much higher than it was in August 2008," news agency
RIA Novosti
quoted Kokoity as saying. "I think that in the upcoming spring or summer some tensions are expected here, as Georgia is getting ready for this and is vengeful statements are being heard more frequently from the inadequate Georgian authorities," he said.
The Co-Chairs of the Geneva talks called on the sides to address incidents at the administrative borders through the Incident Prevention and Response Mechanisms in a joint statement released after the 9th round of talks in Geneva. The Co-Chairs assessed the situation at the administrative borders as "relatively calm" but expressed concern at "sporadic incidents, in particular shootings and detentions." The representatives of the UN, EU and the OSCE have called on each side to release detainees "all for all."