Charity Gala Burns Supper & Ball
Tuesday, February 9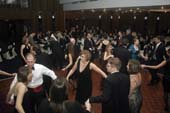 Every year, on or around 25th January thousands of people around the world hold Burns' Suppers to commemorate the birth of the outstanding Scottish poet, Robert Burns (1759-1796), who loved life, poetry, music and friends. While you may not be familiar with many of his poems, you will no doubt recognise his well-known tune sung in particular on New Year's Eve - Auld Lang Syne. Burns Suppers (sometimes all-male get-togethers) range from strict formal gatherings of scholars to riotous parties of drunkards. All Burns Suppers conform to time-honoured traditions which include eating a traditional Scottish meal including haggis, drinking whisky and reciting works by Burns, about Burns or simply in the spirit of the poet himself.
Here in Tbilisi around 200 people, both Georgian and expatriates, celebrated the occasion on Saturday 30th January at a Charity Gala Event organised by Fiona Coxshall, wife of the managing partner of
KPMG
for Georgia and Armenia. Thomas Sommer, the Executive Chef of the Sheraton Metechi Palace Hotel prepared a gourmet 5-course Scottish menu (including haggis) especially for the occasion; the meal was accompanied by plenty of wine and whisky. Members of the business and diplomatic communities enjoyed the British Ambassador to Georgia, Denis Keefe, resplendent in his Scottish kilt recite Burns' Selkirk Grace in both Scottish (English) and Georgian, then admired the ceremonial haggis being paraded to live bagpipe music, played by a representative of the Estonian Embassy, Martin Karner. After listening to Burns poetry and toasts to the haggis, Burns and the lassies (ladies) people danced the night away to live music played by The Glencraig Scottish Dance band generously flown in especially for the occasion from Scotland courtesy of
bmi
with the support of
KPMG
. There was also a live auction of various items including an 18-year old bottle of Scotch whisky, a Romantic Night's Stay for two in a Suite at the Tbilisi Marriott Hotel and artwork by Gia Baratashvili. Among the raffle prizes won were a gym membership at the Sheraton Metechi Palace Hotel as well as an exclusive massage treatment in a private room for a couple at the Anne Semonin Spa at the Radisson Iveria Hotel. The grand prize was
a pair of business class air tickets to the UK with bmi
.
Approximately 18,000GeL was raised from the event that will be used to support three charitable projects here in Georgia: helping CHCA install a computer and Internet room for young Internally Displaced Persons from South Ossetia in Shaumiani (close to the border with Armenia); supporting The Roddy Scott Foundation in helping provide pre-school education, books, stationery, toys and English language classes; and assisting Dog Shelter Georgia address the street dog problem by setting up a shelter for sick or injured stray animals, sterilisation, immunisation and adoption programs.