Eka Beselia wants asylum for her relatives
By Gvantsa Gabekhadze
Tuesday, February 9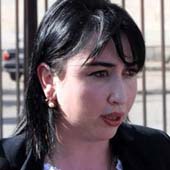 On February Eka Beselia, one of the leaders of the Movement for United Georgia founded by former Defence Minister Irakli Okruashvili, summed up her recent visit to France, where Okruashvili has been granted political asylum. Beselia stated that she consulted her leader regarding future plans and strategy and held a number of serious meetings in Paris.
Beselia said that the Movement will not take part in the May local government elections "but if the candidate who wins the opposition primary is acceptable to us, we will support them at the Tbilisi Mayoral elections. As for rechecking the election lists, this is a very important matter, a precondition for holding free elections, and that is why the Movement will take part in this process." She added that during her visit to France she held meetings with local politicians and international organisations, including one at the Department of European Affairs at the French Foreign Ministry. "I discussed the current political situation in Georgia and explained how hard the conditions the Georgian opposition has to work in are. I also presented to them some of the unjust and inappropriate steps taken by the Georgian Government recently," Beselia said.
Beselia also confirmed that she has asked for political asylum for her brother and son, as she maintains they are being persecuted for political reasons. Her son Rati Milorava and her brother Sergo Beselia have been charged with resisting the Georgian police. Sergo Beselia is in custody and Rati Milorava is wanted.
Government representative Nugzar Tsiklauri has told
The Messenger
that each political figure and Georgian citizen has the right to express his or her viewpoint openly but he does not consider Beselia's close relatives to be political prisoners. "Such statements will never damage the Georgian Government's reputation in the eyes of foreign countries. We support the idea that all the citizens of the country should be able to express their opinions openly, as we are creating a free and democratic country. The sign that the Government is not against the open expression of opinion was how it handled the street rallies of spring 2009. Although these caused serious transport problems, the Government did not use any rough methods against them. If Beselia wants to ask for asylum for her relatives, it is her right, but what her brother and son have done is a pure criminal act, nothing more," Tsiklauri said.