President highlights differences between Georgia and Ukraine
By Etuna Tsotniashvili
Wednesday, February 10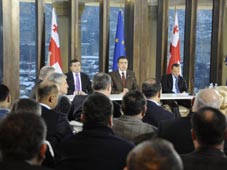 On February 8 President Saakashvili held a meeting with the Parliamentary majority at which he talked about Georgian-Ukrainian relations, highlighting that these two friendly nations had followed different paths, as in one of them political forces cannot reach consensus on major issues and spend all their political capital on internal rivalries and confrontation.
Saakashvili said that Ukraine has failed because its Government team has been unable to preserve unity. "This must be a very important lesson for Georgia. All these years we have spent on not only confrontation within the Governmental team but continual snap elections, crises, street protests and upheavals. This is what some radical elements inside or outside the country would love to see permanently in Georgia," Saakashvili added, saying that revolutions are not merely about taking to the streets and waving flags but making painful radical reforms. "It is achieving national unity and consensus on major issues."
Saakashvili said that Ukraine is in a big mess and of course Georgia is supporting this nation and is in touch with the headquarters of both Presidential candidates as it has friends in both. "Whatever happens in Ukraine, Georgia will ultimately remain its friend. It is only in our interests if Ukraine becomes a strong, viable and economically successful nation," he stated.
Saakashvili said that Georgia had no alternative to the road of completing its reforms, eradicating corruption and further democratising the country. "We have to be always alert if we want to make Georgia the most successful nation in this region," the President said. He reminded his audience of his live interview with Ukrainian TV which was attended by representatives of all political parties, including the Party of the Regions. "They all asked me about the formula for our success. Ukrainians are well aware of our achievements and will be so even more in summer and autumn. We are driving from a side road onto the highway and that will make our progress even more visible," he said. "I reiterate once again that we could share the sad fate of our strategic partner if we are not able to reach consensus on major issues and if our unity is destroyed," Saakashvili added.
The President remembered that in 2004 when he took office Ukraine's GDP per capita was twice more than Georgia's. At that time Georgia had about USD 890 GDP per capita. Today it has a GDP of USD 2,930 and Ukraine's is 2,700. "I could not believe that we were twice poorer than Ukraine. Now we are ahead of them. This does not mean that we should become complacent and do nothing, but our progress is significant," he said.
In terms of fighting corruption Georgia is first in the world and has gained 77 places in the latest listing. Ukraine, sadly, is near the bottom of this listing, the President said. In 2005 Georgia was 112th in terms of business climate and Ukraine was 97th. Now in the latest World Bank rating Georgia is first in Central and Eastern Europe in this respect and 11th in the world, while Russia is 120th and Ukraine 142nd. In the latest Index of Economic Freedom Georgia has gained 99 places and is now 32nd in the world, and second in Central and Eastern Europe, while Ukraine is 133rd position and Russia 134th. In terms of taxes Georgia occupies 4th position, meaning that taxes in Georgia are almost the lowest anywhere, and in Ukraine the situation is much worse, Saakashvili said.
The President also commented on the recently released book which has already gained popularity, Ronald Asmus's 'A Little War that Shook the World', and emphasised that he was shocked at how accurately the developments of that period are described therein. "Many things are becoming clear, things I was not aware of myself – what was going on in the American camp. For example, a serious debate was underway in America about whether to bomb the Roki Tunnel or not. Some members of the US administration backed that idea. Now we see more vividly what we avoided thanks to the firmness of Georgia. We saved ourselves by not signing the sixth point of the Six Point Agreement, through which we would contribute to the 'Kosovisation' of Abkhazia and so-called South Ossetia," Saakashvili stated.
Saakashvili also talked about the reconstruction work going on in the country, adding that those who have blind eyes and do not see this process, or say that it is only a PR action will appreciate what is being done regardless. He cited Tbilisi's Rike Park and the new hostels and beach at Anaklia and Ganmukhuri, which according to President will be the most wonderful ever. "When I say this some laugh, but I have seen more than they have and I am responsible for my words. This will be one of the most wonderful places in the world, if not the most," Saakashvili said.