Noghaideli signs agreement to work with Russians
By Gvantsa Gabekhadze
Wednesday, February 10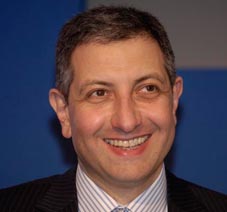 A cooperation agreement between the Movement for Fair Georgia, led by former Prime Minister Zurab Noghaideli, and Russia's ruling party Edinaia Rossia was signed in Moscow on February 9. The Georgian Government and some members of the Georgian opposition have responded very negatively to this agreement, but other oppositional parties consider it acceptable.
The document was signed by Zurab Noghaideli and the head of Edinaia Rossia, Boris Grizlov. It contains six clauses:
1. The sides will consult and exchange information about the situations in the Russian Federation and Georgia and bilateral and international relations and share their experience in the areas of party development, staff training, publishing, participation in legislature and government, youth activism, developing international contacts and other fields of mutual interest;
2. The sides will regularly exchange party delegations at different levels, hold meetings with experts and also conduct other bilateral events;
3. The sides will further the development of inter-party ties and contacts at regional level;
4. The sides will organise bilateral and multilateral seminars, conferences, and round tables involving a wide range of specialists and community representatives to discuss issues of Russian-Georgian and inter-party relations;
5. The sides will assist the development of contacts with non-governmental and other public organisations.
6. The agreement enters into force upon its signing.
"We are ready to collaborate with other political parties in Georgia, not only the Movement for Fair Georgia, but those parties which decide to connect with us should have a rating among Georgian citizens," Grizlov said, adding that this document had taken a year to formulate and is a juridical confirmation of the two parties' connection. Noghaideli called the agreement historic and a first step towards the normalisation of relations between the two neighbouring countries. "Our party is the first to officially state it wants to improve relations with Russia. The Movement for Fair Georgia has already worked successfully with the Russian Government and after signing this document our collaboration will be more effective, something which is in the interests of Georgia," Noghaideli stated.
The Georgian Government stated that Noghaideli's actions amount to treason. "Zurab Noghaideli has signed a document with the enemy of Georgia, which killed Georgian citizens in August 2008 and now occupies a significant portion of Georgia's historic territory. If Russia tries to repeat its aggression it is unlikely that Noghaideli will cease collaborating with it," MP Pavle Kublashvili has stated. This view is shared by some opposition parties. "The party Noghaideli has signed a document with is led by Vladimir Putin and the President of Russia, the initiators of the war in Georgia in 2008, and Noghaideli has thereby approved this action. I do not agree with any party in Georgia collaborating with this kind of body," Giorgi Targamadze, Leader of the Christian Democrats, said. National Democrat Guram Chakhvadze said that "Russia does not need only Abkhazia and so-called South Ossetia, it needs the whole of Georgia to be under its control. Now the Russian Government is trying to create a base inside the country and Noghaideli has turned out to be its most reliable agent. If Russia manages to take control of Georgia it will be easy for it to control the whole Caucasus and thus change the geopolitics of not only the Caucasus region but the whole world."
The Conservative Party, People's Party and Labour Party however are more positive about the agreement. "Collaboration with Russia should begin, as only after this will it be possible to reintegrate the breakaway regions," Koba Davitashvili from the People's Party has said. Labour Party leader Shalva Natelashvili has said that "This is a positive thing. Why should someone refuse to collaborate with the country, which is able to return Abkhazia and South Ossetia to us?"