Georgian Olympian killed
By Etuna Tsotniashvili
Monday, February 15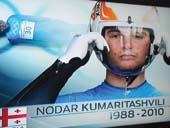 21-year-old Georgian luger Nodar Kumaritashvili died a few hours before the opening of Vancouver Winter Olympics on February 12 after crashing into a metal post at the Whistler Sliding Centre on a training run. Kumaritashvili's sled struck the inside of the track's last turn during his sixth and final training run, sending his body into the air and over a concrete wall.
"This tragedy casts a shadow over these Games," said visibly upset International Olympic Committee (IOC) President Jacques Rogge. International Luge Federation chief Josef Fendt said that the incident was "the gravest thing that can happen in sport", the
BBC
reported.
According to the
Sunday Telegraph
a joint statement from the International Luge Federation (FIL) and the Games organisers said that the accident had been the result of human error and there was no indication of track deficiencies. However head of the Georgian delegation Irakli Japaridze said that the Whistler track had been badly engineered and had injured many sportsmen during their training runs.
"Security measures are not taken. There should be soft protection cushions [at the sides of the track] instead of concrete and the sides do not have to be so low as to throw the sportsman from the track. Many sportsmen have been injured today. For instance, the Italian world champion's sled flipped and he barely survived," Japaridze stated. He says that the Olympic Committee has taken a decision to check the track and amend it, as many competitors had refused to take part in the games because of it.
An investigation of the causes of Kumaritashvili's death will take place following a demand by the Georgian Olympic Committee,
InterpressNews
was told about by Minister of Culture, Monuments Protection and Sport Nikoloz Rurua who is attending the Games. "The issues must be studied to find the reason for our sportsman's death," the Minister noted. He said that funeral costs will be borne by the Government of Georgia, though when the sportsman's body will be returned to Georgia is not known.
The Minister added that the international media has been asking whether Kumaritashvili died as a result of a technical failure and everyone is waiting for the results of the investigation. "I won't be surprised if the issue of including this sport in the Olympics is reviewed. But it is hard to draw conclusions yet, although all the relevant bodies are trying to find exactly how this tragic accident occurred," Rurua stated.
Nodar Kumaritashvili was born in 1988 in Bakuriani, a well-known Georgian ski resort and winter sports centre. His friends say he always dreamed of becoming an Olympic champion. His father Davit, who competed in luge during the Soviet period and then became a coach, told the Sunday Telegraph said that he did not know what was to blame for his son's death, but that he should never have been attaining such speeds.
"I don't know anything about why it happened, I don't know if it was the track or a mistake. But I know that he should never have been going that fast; that kind of speed is too much in this sport," Nodar's father said.
"He was so young and he was a kind guy. We spent almost our whole childhood together and everyone loved him as he was very talented and a really good sportsman. We are in deep sorrow and cannot even imagine that Nodar is not with us anymore," Nodar's friend Nino Khetagashvili told
The Messenger
.
President Saakashvili, who attended the opening ceremony of the Games, expressed his condolences. "What has happened is a huge tragedy for us, we have lost a very good guy and I want you to carry on just as before for him. He would have been glad for Georgia to be a victorious country… Georgia needs people like Nodari," Saakashvili stated while meeting the Georgian team in Vancouver, adding that a sliding track will be opened in Bakuriani to honor Nodar Kumaritashvili.
President of Estonia Toomas Hendrik Ilves expressed his condolences to the President of Georgia on Kumaritashvili's death. "Now, when the whole world has eyes on Vancouver, we express regret over the death of Nodar Kumaritashvili," the President of Estonia stated. US Vice President Joe Biden also paused during a Friday rally with U.S. athletes to offer condolences. "This is a great nation that's gone through an awful lot," Biden said during an appearance at the Canada Hockey Palace. 'Now, to suffer this loss is just tragic. Our hearts go out to the family of a great athlete who lost his life today," Biden said, as reported by USA Today. Prime Minister of Canada Stephen Harper said in reference to Kumaritashvili, "His competitive spirit and dedication to sports excellence will be remembered and honoured during the games."
Kumaritashvili was the fourth athlete to die during Winter Olympics preparations, the others being British luger Kazimierz Kay-Skrzypeski, Australian skier Ross Milne and Swiss speed skier Nicolas Bochatay.
The Messenger Staff express condolences to Nodar's family. We have received a lot of letters from around the world expressing sympathy over the young sportsman's death. Here is one of them, from Vancouver.
"As a citizen of Canada, living in Vancouver, I wanted to express to the citizens of Georgia the sorrow we Canadians feel at the loss of your athlete Nodar Kumaritashvili on the Olympic Luge run today. As I await the start of the opening ceremonies my heart goes out to your athletes as they prepare to enter the stadium in less than one hour from now. The Games will not be the same after this accident. Please know that the prayers of Canadians will be with Nodar's family and the people of Georgia. We will not forget how Georgian athletes went on in the last Olympics when they were being invaded. Your athletes showed their strength during those games and once again will show their strength to the world as this day unfolds.

In Prayer,

Lori


Vancouver, British Columbia, Canada