Christian Democrats make their nomination official
By Gvantsa Gabekhadze
Monday, February 15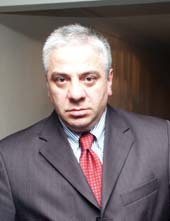 The Parliamentary minority Christian Democratic Movement officially nominated Giorgi (Gia) Chanturia as its candidate for Tbilisi Mayor on February 12.
Chanturia, once an influential figure in President Shevardnadze's administration, was head of the Georgian International Oil Corporation (GIOC) for nine years and in charge of negotiating for the Baku-Tbilisi-Ceyhan and Baku-Tbilisi-Erzurum pipelines to be built. Chanturia has not been involved in Georgia's political or public life since September, 2004 when he was dismissed from his post by President Saakashvili. He left the country and has worked in Azerbaijan for several years, his departure triggering speculation that he had been forced to flee the country as he faced possible arrest. It has been stated that for some time he has been on Interpol's wanted list.
"Giorgi Chanturia is an excellent manager who has great experience of conducting successful and profitable negotiations and has important foreign connections. I believe that the city requires a good manager, who will introduce modern managerial skills; this will help resolve the problems the city is facing," the Christian Democrat leader, Giorgi Targamadze, said. Chanturia said that "I think it is not right to view the Mayoral office only as a political trampoline. When one seeks public support to obtain office, this support should not be used only to satisfy personal political ambitions. We face many challenges; we should create new jobs and reduce energy tariffs; it is possible to do this."
Chanturia strongly denied speculation that he was "forced to flee the country" in 2004 and denied that he had ever been wanted by Georgian or international law enforcement agencies. He said that his departure from the country had been solely related to his professional activities and that he had worked for almost three years in Azerbaijan on a project related to the involvement of Kazakhstan in the Baku-Tbilisi-Ceyhan oil transport route. He also said that in this capacity he had regular contact with the Georgian authorities.
Giorgi Targamadze said the Government's candidate for Tbilisi Mayor, the incumbent Gigi Ugulava, was likely to be Chanturia's main rival rather than other opposition candidates. "I respect all the candidates for this post, but I think our main opponent will be the Government's candidate. We should win this fight and take the levers of government into our hands," Targamadze stated.
However the non-Parliamentary opposition has expressed a different viewpoint while talking to The Messenger. "We are glad that the Christian Democratic Movement has nominated Giorgi Chanturia for Tbilisi Mayor. We do not consider the Movement a real opposition party. The National Movement and the Christian Democrats have common voters, and Chanturia will only take votes from Gigi Ugulava, which will be very profitable for the common opposition candidate who will be selected by the primaries," Koba Davitashvili, leader of the People's Party, stated. The People's Party, Conservatives and Movement for Fair Georgia are the initiators of the primaries which will select a single opposition candidate for the Tbilisi Mayoral elections.