Shamba appointed Prime Minister of de facto Abkhazian republic
By Mzia Kupunia
Monday, February 15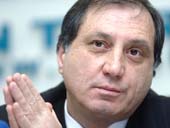 Newly inaugurated de facto President of Abkhazia Sergey Baghapsh has appointed the former de facto Abkhazian Foreign Minister Sergey Shamba as Prime Minister, replacing Alexander Ankhvab, news agency
Apsnypress
reported on February 13.
Baghapsh hailed the new Prime Minister, saying that Shamba is an "experienced politician." "He has been at the centre of political events in Abkhazia since the seventies", the de facto leader said at a Cabinet session in Sokhumi. "Now he will have to work on social and economic issues," Baghapsh said.
Shamba, who has been de facto Foreign Minister for 13 years, thanked Baghapsh for "trusting" in him, adding that for him "it is important to retain people who have done their duties in a professional manner."
No other changes in the Cabinet were reported after the inauguration of Sergey Baghapsh. The ceremony took place on February 12 in the Philharmonia building in Sokhumi. De facto South Ossetian President Eduard Kokoity, Mayor of Moscow Yuri Luzhkov and President of the unrecognised state of Transnistria Igor Smirnov attended the ceremony, according to Apsnypress.
The main policy of Sokhumi will be "devotion to the principles of sensible balance," Baghapsh said in his inauguration speech. "We will be relying on our own efforts, the rich heritage of the nation and constructive cooperation with external partners," the de facto President said. "We are obliged to pass on to the next generation a strong, developed state with equal opportunities for all its citizens," he added.
Russian President Dmitry Medvedev has congratulated Baghapsh on his inauguration, RIA Novosti reported. "Abkhazia is moving towards developing as an independent, democratic state," Medvedev's letter reads. Russia and Abkhazia are linked by centuries of friendship, the Russian President wrote. "Russia will continue supporting Abkhazia in restoring its economic potential, completing its infrastructure and training its staff," he stated.
Officials in Tbilisi declared the inauguration to be a "tragicomedy". "It is a comedy because it is not an inauguration, just a show. It is a tragedy for the people who have been forced to leave Abkhazia and also for those who are still there because they do not support the aspirations [of these leaders]," Georgian Minister for Reintegration Temur Iakobashvili said. He called on representatives of the diplomatic corps and international organisations to be more active in helping create "joint effective mechanisms" to address issues in the region.
The head of the Abkhazian Government in-exile, Gia Baramia, said the inauguration was "alarming". "While the Abkhazian population is leaving Abkhazia and asking Georgia for assistance, the inauguration of a "President" in Sokhumi is a cause for alarm rather than celebration," Baramia stated.
60-year-old Sergey Baghapsh was re-elected as President of the de facto Abkhazian republic on December 15 2009 with 61.16% of the vote.