New library and sports hall opened in village
By Etuna Tsotniashvili
Tuesday, February 16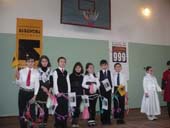 The International Rescue Committee and Stichting Vluchteling (SV), in partnership with the local school administration, opened a new school library and sports hall in the village of Kelktseuli in Gori district on February 12.
The Kelktseuli School has not had such facilities for approximately 20 years. Its Sports Hall was in a very poor condition and the children could not play there, using the school yard for playing and training. However they could not do this in winter. The library, which was located in a small room, has been fully renovated and now children of all ages can read and take out the necessary books.
15 year old Keti Tsevelidze, who is in the 10th form and has begun preparing for the United National Exams, said that she and her friends had wanted such a library for a long time as the old one was very small and its books were not new. She said that the renovated room and new books made it easier to find the necessary materials, and they cannot hide their happiness at the opening of the new sports hall as well. "We are really very happy to see what has been done at our school. On behalf of my friends and classmates I would like to thank those who have made a contribution to this work," Keti told The Messenger.
"Events like this opening ceremony support awareness-raising of the plight of war–affected rural community schools and children. This SV-supported programme is a great example of what we can do to provide a little help in an area that concerns us all, as parents and as people, who have a little that we can easily share with those less fortunate," Country Director of IRC Peter Leifert told The Messenger.
Elguja Aptsiauri has been Director of Kelktseuli School since 1968. He attended this school in his childhood. He said that a lot of sporting events had taken place there years ago and the school had once had a very good football team. He was fond of sports and had won Greco-Roman wrestling championships. He was a Champion of Georgia during the Soviet period. But as the school sports hall was not in good condition, children went to Gori to train when possible.
"Beside renovation, the sports hall has been equipped with new facilities. The school curriculum will be expanded to allow us to use the renovated sports hall, and the children are waiting for this additional fun and learning facility in their lives The school's students also have access to a renovated library and are glad to have a playground in the school yard provided by the IRC in addition to the sports hall," Aptsiauri said.
Jan Habraken, Programme Officer of Stichting Vluchteling, which is the Netherlands Refugee Foundation, expressed his regret by letter at not being able to attend the ceremony and congratulated the children, parents, teachers and IRC staff on this wonderful achievement. "This programme, implemented by the IRC in coordination with the Government and other involved stakeholders, has been instrumental in providing basic, essential rehabilitation work in schools as well as in improving the learning environment and psychological and emotional wellbeing of the children who have recently returned to their villages and have been confronted with war and forced displacement. The public school library and sports hall in Kelktseuli village is a good example of this school rehabilitation programme," Habraken's statement read.
The village of Kelktseuli is one of fifteen in which the IRC has been implementing child and youth educational and development projects with the financial support of the Dutch humanitarian organisation Stichting Vluchteling. The IRC and SV have refurbished and rehabilitated 14 more school libraries and/or sport facilities, either sport halls or outdoor playing fields, in these villages.