Phenomenal performance
By Messenger Staff
Wednesday, February 17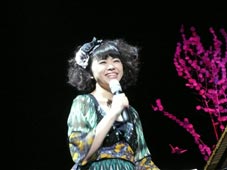 Japanese piano virtuoso Hiromi gave a most memorable concert at Tbilisi's Rustaveli Theatre on February 15. Hiromi possesses classical technique and uses the whole keyboard masterfully. She performed a huge repertoire of individual interpretations of historic jazz pieces for 2 hours and the audience was visibly thrilled at listening to this fantastic young lady.
"It is a great pleasure for me to present our outstanding pianist Hiromi Uehara on this stage. Hiromi started her career at a very early age and is now known as the one of the most successful Japanese artists. Hiromi gives concerts in a variety of large cities in the world and I am delighted that she is in Tbilisi tonight. I would like to express my sincere gratitude to her for coming such a long way to delight us with her music. We don't need many words to explain the music; we just need to feel it," HE Masayoshi Kamohara, Ambassador of Japan to Georgia, explained to the audience.
Georgian Public Broadcaster is making a film on Hiromi which has received a license from the Yamaha music publishing company from Tokyo. The film will be a most amazing achievement for this country and will be sent to Hiromi. Hiromi came to Georgia from Switzerland and was seen off with a performance of the wonderful Georgian song Mravaljamieri to continue her trip to New York.
"I'm so happy to be in Georgia, meet you all and be welcomed to a place I've never been before," Hiromi said in tears, gifting her special final chords to the amazed audience to make them part of her awesome global peregrination.
The audience gave Hiromi a standing ovation to express their gratitude and admiration for her performance. The music did not seem to come from her, rather she seemed to be entering the pre-emerging music.
The Messenger
is proud to be providing the media support to Hiromi Uehara, a young superstar with incredible talent and astounding commercial success and critical acclaim. This project became possible with the support of Tagiss Art, The Georgian Public Broadcaster, Tbilisi City Hall and others.
We want you back Hiromi!