Moscow slams Georgia's strategy on its occupied regions
By Mzia Kupunia
Wednesday, February 17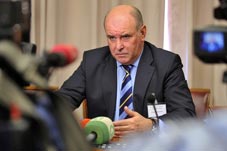 Moscow is trying to distort the real aims of Georgia's strategy towards its occupied regions and put the genuineness of its commitment to "peaceful, constructive and result-oriented approaches" in doubt, the Georgian Foreign Ministry reported on Tuesday. This statement, posted on the Ministry's website, refers to an interview given by Russian Deputy Foreign Minister Grigory Karasin to the magazine
Ogonek
, in which he criticised Georgia's newly adopted strategy, calling it "mere camouflage."
The Georgian Government does not want to see "cardinal changes" taking place "behind its back", Karasin told Ogonek on February 15. "They do not want to see that two new independent states have emerged at the borders of Georgia," the Russian Deputy Foreign Minister noted. "The strategy is a combination of barely concealed attempts to regain the lost territories and naked propaganda wrapped in the cover of decency" he added. Karasin said that the aim of the Georgian administration remains the same – to return the "independent republics" of Abkhazia and South Ossetia to Georgia's jurisdiction "through any means". "So it is a new strategy with old aims," Ogonek quoted Karasin as saying.
The Russian Deputy Foreign Minister also accused the Georgian side of violating the process of reconciling the nations. "Russia's actions saved the lives of thousands of local residents, including Georgians, in August 2008," Karasin said. He also slammed Tbilisi for hindering the signing of the non-use of force document with Sokhumi and Tskhinvali at Geneva talks. "We want to continue the Geneva discussions, considering that the Abkhazian and the South Ossetian sides will participate in them. The main issue for us is stability in Transcaucasia, not the exchange of insults," Karasin stated.
The Georgian Foreign Ministry said that the strategy offered by the Georgian side, has seemingly impressed not only members of the international community but also the "occupier state." "Moscow is irritated by the fact that the international community does not recognise the so-called "new" reality, i.e. the virtual reality, Russia is trying to create through the crude violation of international laws and principles, through using military force and ethnic cleansing," the MFA statement reads. The real picture of what Russia's policy towards Georgia is, is clear, so "we are not going to comment on the statements of Mr. Karasin about the August War," the Foreign Ministry said.
"At the Geneva talks Russia is the side, which with the help of puppet regimes and its own destructive position, hinders and blocks all initiatives of the Georgian side and the international mediators to give a relevant impulse to the peace process," the MFA statement reads. Karasin's interview clearly gives a directive to the puppet regimes not to discuss the document prepared by the Georgian side, the Georgian Foreign Ministry said. "However Russia will not be able to dictate its will to the international community," the statement concludes.
The Georgian Government adopted the 'State Strategy on the Occupied Territories: Engagement Through Cooperation' on January 27. The document, prepared by the Ministry of Reintegration of Georgia, envisages restoring the country's territorial integrity through peaceful means. "We do not want war," Minister for Reintegration Temur Iakobashvili said after the document was adopted. The Government is planning to draft a specific action plan based on the strategy by the end of June, according to the Reintegration Ministry.