Moscow and Sokhumi sign agreement on Russian military base
By Mzia Kupunia
Thursday, February 18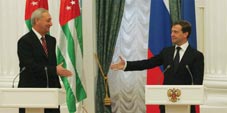 Moscow and Sokhumi signed a document on establishing a Russian military base in the de facto Abkhazian Republic on Wednesday, news agency Interfax has reported. Defence Minister of Russia Anatoly Serdukov and his de facto Abkhazian counterpart signed the document in The Kremlin in the presence of Russian President Dmitry Medvedev and newly-inaugurated de facto President of Abkhazia Sergey Baghapsh.
President of Georgia Mikheil Saakashvili is "persona non grata" in Russia, President Medvedev said at a joint press conference with Sergey Baghapsh. "I am sure that sooner or later we will get back to having normal relations with Georgia," he stated. "However with the current President of Georgia I personally will do no business. He is persona non grata for the Russian Federation," Interfax quoted the Russian President as saying.
Since the recognition of Abkhazia as an independent state contacts between Moscow and Sokhumi have developed in all directions, Medvedev stated. "Last year was not spent in vain, we prepared the legislative bases for action and signed several documents and agreements," Medvedev noted, adding that the USD 130 million allocated by Moscow for Georgia's breakaway region, is only the "first step" in developing trade links and the "start of further cooperation."
Officials in Tbilisi have criticised Moscow for signing the document. Georgian Foreign Minister Grigol Vashadze said "sooner or later Russia will have to answer for the crimes it has committed against Georgia." "I would like to remind you of a phenomenon called the German Democratic Republic. More than 70 states had diplomatic relations with it and thousands of agreements were signed with it. That state no longer exists. I assure you that this 'clownada' staged by Moscow and its puppet regime will end even sooner than that state did," Vashadze told journalists on Wednesday.
Signing a document to establish a Russian military base in Abkhazia is "illegal and cynical", Georgian Parliament Speaker Davit Bakradze said. "It cannot change the reality that this is an occupied region of Georgia or justify the occupation of Georgia's territories," he said. He called the signing of the agreement a "tragedy". "After the aggression of 2008 and Abkhazia and the Tskhinvali region being turned into one big Russian military base, it is merely tragic to sign such a document," Bakradze noted.
Baghapsh's visit to Moscow is one more indication of Abkhazia's total annexation by the Russian administration, Chairman of the Abkhazian Government in-exile Giorgi Baramia said. "Moscow is trying to underline the legitimacy of Baghapsh [with these meetings] and is planning to offer its puppet regime new schemes for integrating it with Russia," Baramia said, noting that agreements "like this" can only be signed between two independent states recognised by the international community.
By signing documents about military bases Russia is trying to legitimise the presence of its troops on the Abkhazian territory, analyst Gocha Gvaramia said. "Another reason for signing this agreement is Russia's desire to take all military levers in "independent" Abkhazia into its own hands," the analyst suggested. "It is obvious that the management of the military base will be given to Russian military personnel. Thus "independent" Abkhazia will be left without an independent defence system. It is an axiom that the side which has the military power has the real levers for governing the country. This is true in any state," Gvaramia told
The Messenger
.