NATO criticises Moscow - Sokhumi military deal
By Mzia Kupunia
Friday, February 19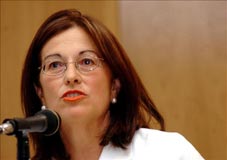 NATO has called on Russia to renounce the agreement it has signed with Georgia's breakaway region of Abkhazia to set up a military base on its territory, Reuters has reported. NATO continues to call on Russia to respect the commitments it undertook in the 2008 ceasefire accord concluded under EU mediation, spokesperson of the alliance Carmen Romero said late on Wednesday.
"We do not consider any agreements signed between the Russian Federation and the regions of Georgia as having any validity," Reuters quoted Romero as saying. The North Atlantic Council has condemned the decision by the Russian Federation to recognise the Georgian regions of Abkhazia and South Ossetia and called on it to revoke it, she said.
Moscow and Sokhumi signed an agreement on setting up a United Russian Military Base on Abkhazian territory. According to Russian news agencies the treaty envisages a establishing a joint Russian-Abkhazian base for "at least 49 years". The treaty can be extended for 15 more years, RIA Novosti reported.
The agreement between Russia and Abkhazia on setting up a military base "fully corresponds" with Russia's international commitments, Russian President Dmitry Medvedev said. "These documents are in full accord with our vision on developing relations with Abkhazia and our international commitments," he said. "The main thing is that the agreement creates a basis for the peaceful development of Abkhazia as an independent state," Medvedev added.
The agreements already signed with Russia place "big responsibilities" on Abkhazia, the de facto Abkhazian leader Sergey Baghapsh said. "We have just begun our existence as an independent state and still have a lot to learn. We are ready to do our best to become a full member of the international community," the de facto President stated. He added that more than 20 agreements are still to be signed between Sokhumi and Moscow "in the near future." "We have a complex of broad interstate relations, and these agreements are the basis on which these relations will be built. That's why this process will continue," RIA Novosti quoted Baghapsh as saying.
The Georgian Foreign Ministry has accused Russia of strengthening its military presence on Georgia's occupied territories, citing the signing of the agreement on setting up a joint military base as "clear proof" of this. Moscow's aim is to "legitimise" the military occupation and annexation of Georgia's regions, a statement posted on the Georgian Foreign Ministry's website reads. "The abovementioned actions are being carried out by Russia without any control, as thanks to The Kremlin's efforts all international observation missions have been withdrawn from Georgia's occupied regions and Russia opposes establishing international monitoring mechanisms in these regions," the statement says.
Russia's "expansionist" plans endanger not only Georgia but the whole Caucasus and the Black Sea regions, the statement says, highlighting that recent amendments to the Russian Law on Defence enable Russia to carry out "preventative" military operations in any circumstances, against any state, if The Kremlin regards this as necessary. The statement expresses "strict protest" against Russia's "intensive militarisation" of Georgia's occupied regions and calls on the international community to make an "adequate assessment" of Russia's "illegal actions" and take "drastic measures" to prevent them.