Patent law changes may decrease medicine prices
By Salome Modebadze
Friday, February 19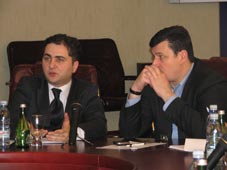 Popular medicines will no longer be registered at the Sakpatent National Intellectual Property Center as unique brands, Alexander Kvitashvili, the Minister of Health, Labour and Social Protection, told the media after a meeting with Irakli Ghvaladze, Director General of Sakpatent, on February 18.
"The main purpose of our meeting was to establish a list of widely used medicines which will become an essential part of the state insurance package. This project will impede any attempt by the pharmaceutical agencies to obtain a monopoly on particular medicines and will further balance their prices within a fair competitive environment. There are around 8,000 medicines registered in Georgia, but we are discussing how to prevent the most common becoming a source of competition among the providing agencies," explained Kvitashvili.
"Sakpatent registers brands, not particular medicines. There have been several unfortunate cases of the registration of medicines being misused by particular pharmaceutical agencies, which has caused complications in a variety of ways. Such violations of the law, which firstly affect prices, have caused some medicines to disappear from the market. Thus we have started to elaborate a joint list of the most widespread medicines with the Ministry of Health to avoid unhealthy competition. All previous cases of monopolisation will be discussed by the courts," Ghvaladze told the media.
The Messenger
asked representatives of both sides to give a clear explanation of the issue. "The registration of brands enables a particular company to establish an exclusive right to the manufacture and sale of that brand. Brands are essentially associated with monopolies, and unfortunately create an unhealthy competitive environment," Merab Kvimsadze, Deputy Director General of Sakpatent, told us. "There was a tendency in the Soviet Union for different companies to sell fundamentally the same medicines under their own unique names and consumers would not know which to use. Now we aim to register such medicines under a single brand name which must be used by all different agencies," he added.
Gia Tvalavadze, Head of the Medical Activity Regulation Agency, explained that the Ministry of Health and Sakpatent are carrying out a joint project which gives them mutual obligations. "There are three main issues we are now working on: 1. Defending both providers and consumers against the misuse of copyright; 2. Improving the state's medical service for consumers; 3. Elaborating a list of medicines which can be included in the additional insurance package being prepared by the Ministry of Health. This project aims to eradicate restrictive practice and put all the pharmaceutical agencies on a level footing. It aims to define patents in a very proper way. They will be given to generic brands, not specific medicines, and thus prevent the manipulation of prices," Tvalavadze told us, adding that the additional insurance package of GEL 25 will allow its policyholders to buy all the most widespread medicines.