Saakashvili reacts to French-Russian Mistral deal
By Mzia Kupunia
Monday, February 22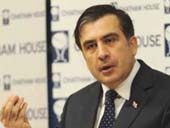 On Friday Georgian President Mikheil Saakashvili called on France not to sell the Mistral amphibious assault warship to Russia. Speaking at the Royal Institute of International Affairs in London, Saakashvili said that with the help of this vessel Russia will be able to invade "any" Eastern European country in "a few hours".
Saakashvili described the Mistral deal between Russia and France as "strange and risky". There is a big threat of direct confrontation between the Mistral and NATO forces in the Black Sea, the Georgian President said. "Deploying the assault warship in the Black Sea could further aggravate the situation and cause new conflicts," Saakashvili noted. "With its actions France might endanger the stability in the Caucasus region. Selling an assault ship to Russia is unexpected and very risky and selling armoured vehicles is a 10 times more serious problem," he added.
Saakashvili is planning to meet his French counterpart Nicolas Sarkozy and try to "influence" the Mistral deal between Paris and Moscow, President Saakashvili's website reads.
France agreed to sell the Mistral to Russia early last week after months of negotiations, news agency
Reuters
reported based on the French Defence Ministry. It is the first major arms deal between Russia and a NATO member state and will cost Russia between Euro 400 million and Euro 500 million, according to media reports. Mistral-class ships, which weigh more than 21,000 tonnes and are about 200 metres long and 30 metres wide, can carry about 20 officers, 80 petty officers, 60 quartermasters, 450 passengers (900 for a short cruise) and 150 men in their operational headquarters', as well as 16 heavy or 35 light helicopters.
The Georgian Foreign Ministry has also expressed concerns about the French-Russian Mistral deal. Russia is trying to strengthen its Navy in the Black Sea, Deputy Foreign Minister of Georgia Nino Kalandadze said on February 19, citing the Mistral deal as well as Russia's plans to set up additional military bases in Georgia's breakaway regions of Abkhazia and South Ossetia.
"It is a fact that the armament of Russia is going on. We now have the first precedent of a NATO member state selling Russia a big warship, and Moscow's rhetoric and actions are still strictly aggressive," Kalandadze stated. "In addition, The Kremlin is talking about building additional military bases in Abkhazia and South Ossetia, which is a violation of all agreements signed by Russia. Considering all the abovementioned facts, we can say that Russia intends to strengthen its military fleet in the Black Sea," the Deputy Minister added. Kalandadze noted that Georgia's security depends on how its "friendly nations" will help Georgia.
No one can hinder Russia buying military equipment, Russian Duma members said, commenting on the Georgian President's statements in London. Member of the Defence Committee of the Russian Duma Sergey Abeltsev said that Saakashvili's statements were being dictated by his European and American "protectors." "The accusations made by Saakashvili in respect of France are the product of Saakashvili's own fantasy. Apparently he has received instructions from British officials," Abeltsev noted. "Neither Saakashvili nor Britain will be able to prevent us buying weapons from France if an agreement is signed at an interstate level. This is a serious deal, we are buying Mistral and the decision on where it will be deployed, in the North, South or close to Georgia, should be made only by the Russian Commander-in-Chief," the Russian MP said, adding that Saakashvili's visit to France and meeting with Sarkozy will "hardly change anything."