Saakashvili accused of provoking Russia to suit himself
By Salome Modebadze
Monday, February 22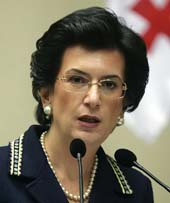 Mikheil Saakashvili understands that his Presidency is under threat and is thus trying to involve the country in a new war by making provocative actions and statements so that he can leave Georgia and set himself up as 'President in Exile' rather than give his people the opportunity to throw him out. The Executive Board of the Democratic Movement-United Georgia stated this on February 19, in response to the President's recent comments about Russia being ready to start a new war.
"The Government of Georgia is aiming to provoke Russia. The situation is so difficult and unstable in the North Caucasus that the statements made by our Government may become the reason for even wider destabilisation in the region," the party's statement said. The Democratic Movement-United Georgia also highlighted that a friendly attitude towards the Caucasus peoples is very important for Georgia, and there has long been a need to make efforts in that direction, but statements such as President Saakashvili's will provoke a harsh reaction from Russia. "We ask the international community and all international organisations to evaluate this situation and react to Saakashvili's irrational and provocative actions. The reality in our country is very much like the pre-war situation in 2008, which is alarming," the Board concluded.
The Messenger
asked members of the non-Parliamentary opposition what they thought of President Saakashvili's statements. Tina Khidasheli from the Republican Party said that there is always such a threat but it is the Government's responsibility to deal with any provocations. Kakha Kukava, Conservative Party co-leader, said that "Russia doesn't have any strategic plan towards Georgia nowadays. It is in Saakashvili's interests to provoke Russia and attract international attention to obtain support. What Saakashvili said is an attempt to start a new conflict with Russia. Saakashvili is actively provoking Russia, so if it becomes aggressive the responsibility for this will rest with our President."
Analyst Ramaz Sakvarelidze told us that there are no signs of military aggression from Russia at present. "I wonder why Russia would be interested in spreading aggression in Georgia when it doesn't have to take revenge on the West as it did in the past. If the adoption of this new appeal aimed at restoring cooperation between the Caucasus peoples, which has followed on from this statement, is somehow connected with Georgian-Russian relations this will definitely aggravate the present situation because the North Caucasus will become a cause of disagreement between the two countries. Cooperation within the region is essential but there will be sanctions imposed by the central Government in such cases. Even if Parliament doesn't adopt this initiative it will still aggravate the situation between the countries. The issue has already been highlighted, thus there is a risk," he said.