Georgian art is saving lives
By Salome Modebadze
Monday, February 22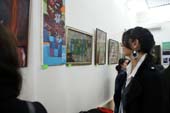 The Museum of Theatre, Cinema, Music and Choreography hosted an exhibition-sale organised by Davit Durglishvili's charity fund Hand Hope on February 20. The exhibition-sale presented donations - personal items, sculptures, tapestries, and clothes from some well-known Georgian public figures, painters and sculptors.
"We will manage to do everything together. I believe that Georgian art can save people," Giorgi Kalandia, Director of the museum, told the guests, calling this day an important event in the history of the museum.
The event was dedicated to 17-year-old Jaba Murtskhvaladze, a boy disabled since being born after falling while doctors were wrapping him in clothes. Five operations were conducted on Jaba in Tbilisi and serious errors were made during the first and third of these. Jaba, who first attempted to walk at the grave of Monk Gabriel, now requires his 6th operation, which must be conducted in a Neurosurgery Clinic in Munich, Germany. The operation would normally cost 40,000 Euro, but the clinic has pledged to co-sponsor it, reducing the cost to 10,000 Euro.
"Our organisation was founded two years ago. To begin with we supported other charity funds by providing them with webpages and special numbers but a fortnight ago we registered as a new charity fund and we will help disabled young people overcome their handicaps from now on," Davit Durglishvili told
The Messenger
.
Gogita Murtskhvaladze, Jaba's father, told us the story of his son and thanked all supporters for their contribution. "When I saw the difficulties my son had I had to do something to prevent myself falling into despair. I felt as if I had to do something really important. I became acquainted with people from different fields who encouraged me to hold all the 12 charity concerts I have held for my son. But now the 6th operation is in train my friends have proposed holding an exhibition-sale and I hope that the money from this will be enough not only for the operation but post-operation treatment as all the things presented here are valuable for the Georgian people. I would like to thank all the relevant people, organisations and media for their special support in releasing information about my son," he said.
Jemal Kukhalashvili, a painter, donated a picture of his to the event, saying that it was important to him as an expression of the generosity of people. "I have done lots of things in my life, among which this donation is one of the most important. It is real happiness when you make someone else think he is important to others. This life belongs not only to healthy people but the disabled too. It doesn't matter how many things you donate, it is important how you do that," he told
The Messenger
.
To donate, call: 700 344 Geocell and Beeline;
200 344 Magti;
919 344 United Telecom
(Calls cost 1 lari)

or write a cheque to:
TBC Bank, central branch
Sort code: 200101830
Account number: 11701022,



visit www.jabasos.com

or call 893 906 275