Tbilisi slams Lavrov's radio statements
By Mzia Kupunia
Tuesday, February 23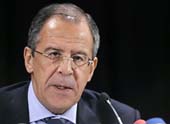 On Monday officials in Tbilisi criticised statements made by Russian Foreign Minister Sergey Lavrov during his interview with the
Ekho Moskvy
radio station last week. Georgian Deputy Foreign Minister Nino Kalandadze assessed this interview as "gossip" between Lavrov and a journalist.
In the interview, on the talk show
Dura Lex
with Mikhail Barshchevskiy, Lavrov said that Moscow had not had any plans to take over Tbilisi in August 2008. The Russian Foreign Minister said that it is Saakashvili who is "always talking about this," adding that "not only things such as these could come from his sick imagination." The interviewer responded by saying, "Saakashvili is talking when he has no tie in his mouth."
"I do not want to go into the details of his [Saakashvili's] psychological conditions," Lavrov said. "Our task [in August 2008] was easy: it was to defend peaceful citizens and our peacekeepers. As for the actions outside the borders of South Ossetia, on the territory of Georgia, we were working only on those points from where South Ossetia was being targeted with fire," the Russian Minister said, adding that when this firing stopped the Russian troops returned to South Ossetian territory. "There were no plans," he noted.
Russia did not have any geopolitical schemes when the August conflict started, Lavrov reiterated. "We were thinking only about saving people. How could there be any geopolitical schemes when at the start of the military actions the President [of Russia] was on vacation and the Prime Minister was at the Beijing Olympiad?" the Foreign Minister asked, adding that "nobody takes seriously Saakashvili's statements that all of this was a trap."
Moscow was planning to regulate the conflicts based on the principle of Georgia's territorial integrity, Lavrov said. He noted that former President Vladimir Putin and incumbent President Dmitry Medvedev had offered Saakashvili a non-use of force document, the signing of which, according to Lavrov, should have been the first step in regulating the situation in the region. "In response we received a note that Tbilisi was ready to discuss the following steps for normalising the situation: the withdrawal of the Russian peacekeepers, the replacement of President Kokoity with the Georgian puppet Sanakoev and some 6 other points. Only after this did the Georgian side say that it would be ready to sign a non-use of force document," Lavrov stated.
The Russian Minister said that Moscow is not pushing any country to recognise Abkhazia and South Ossetia as independent states. Lavrov denied putting any pressure on Belarus in this respect. "We do not apply any means of pressure to our Belarusian or other partners in the Commonwealth of Independent States (CIS) or elsewhere," Lavrov said.
"The interview didn't resemble a talk between a professional journalist and a Foreign Minister but the gossip of two subjective persons," Deputy Foreign Minister of Georgia Nino Kalandadze said. She criticised Lavrov for making "cynical" and "offensive" statements and suggested he read the Tagliavini Commission's report on the Russian-Georgian conflict to "find out on which side is the truth." "I got the impression that Mr. Lavrov participated in this programme just to talk about Georgia in this manner," Kalandadze said.