Clinton highlights continued "differences" with Russia
By Mzia Kupunia
Wednesday, February 24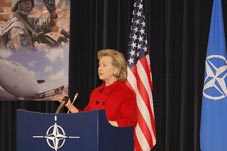 Secretary of State Hillary Clinton reiterated that the US still has "differences with Russia on several issues" during her speech at the NATO Strategic Concept Seminar in Washington on February 22. The NATO-Russia council will be used as a forum for "frank" discussions about areas of disagreement, she said.
"We will use it to press Russia to live up to its commitments on Georgia and to reiterate our commitment to the territorial integrity and sovereignty of all states," Clinton stated. "We will use it to challenge the assertion put forward in Russia's new military doctrine that NATO's enlargement and its global actions constitute a military danger to Russia," she added.
The Secretary of State touched upon the issue of NATO enlargement as well. "No other country should have a veto on a sovereign country making decisions about what organisations it wishes to join," Clinton said in response to a journalist's question about how NATO is planning to deal with the "fierce" resistance of Russia to NATO enlargement.
NATO has a set of requirements that have to be met, Clinton noted. "Not every country that raises its hand and says it wishes to be a NATO member will either quickly or ever be admitted, but that should be a process between the country applying and NATO itself, and not be influenced adversely by anyone on the outside," the Secretary of State said. "Individual countries have every right to decide whether they want to join or not, and so they make their own strategic calculations as to whether they wish to do so. But a country that wishes to join NATO has to have a very clear sense of what is required in order to meet the threshold of membership. And NATO, I think, has been successfully working with countries to try to move them to becoming eligible and then finally attaining membership," Clinton stated.
Clinton added that one of the main tasks of 2011 will be to convince Russia that NATO enlargement is no threat to it. "Not the 21st century Russia, not the Russia which has a lot of other pressing needs and concerns, some of them being threats coming from other sources, certainly not NATO," the Secretary of State said.
NATO Secretary General Anders Fogh Rasmussen also reiterated his position on Ukraine and Georgia's NATO membership aspirations on Monday. Speaking at Georgetown University in Washington, Rasmussen said that the Alliance has not given up its plans to accept Georgia and Ukraine but believes the countries should conduct reforms more actively in order to fall in line with the criteria required for membership,
RIA Novosti
reports. NATO is conducting active discussions with the two countries through bilateral working groups, the Secretary General said in response to a Georgian student's question, according to the Georgian media.
Georgia's NATO integration was one of the issues discussed by Georgia's European and Euro-Atlantic Integration Minister Giorgi Baramidze during his visit to Italy. The Minister spoke about the situation in Georgia's breakaway regions and cases of human rights violations in Abkhazia and the Tskhinvali region at his meeting with Chairman of the Foreign Relations Committee of the Italian Senate Lamberto Dini, according to the Ministry's Press Service. Dini stressed the importance of the reforms being carried out to develop democracy in Georgia and reiterated Italy's support for Georgia's territorial integrity and its NATO and EU integration, the Press Service reported.