Helping the public understand the elections
By Gvantsa Gabekhadze
Wednesday, February 24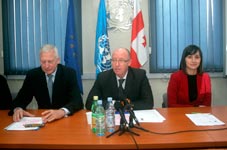 The European Union (EN) and the UN Development Programme (UNDP) officially launched a project called 'Promoting Dialogue and Capacity for Effective National Electoral Processes' at UN House in Tbilisi on February 23. The project aims to help national electoral stakeholders effectively conduct electoral processes and support preparations for the forthcoming local government elections.
The organisers of the project told Georgian media representatives that the specific objectives of the programme are to facilitate the reaching of a consensus on critical aspects of electoral legislation, develop expertise on administering electoral processes within national institutions and increase awareness of the electoral process among all stakeholders.
"Credible elections are the foundation of democracy and the guarantee of maintaining rule of law and political stability. The European Union will continue its assistance to national democratic institutions in Georgia in their effort to hold free and fair elections in a credible and stable environment, which is why the target groups of this project are the electoral administration, the courts, the media, observers, political parties and the public in general, including ethnic minorities.
"Our project will organise special training sessions. Seminars for judges will be held in close cooperation with the Supreme Court of Georgia and High School of Justice, and training sessions for domestic observers and media will be run in close cooperation with the election administration," Ambassador Per Eklund, Head of the European Delegation to Georgia, said.
Jamie McGoldrick, UNDP Resident Representative and UN Resident Coordinator in Georgia, stated that voter knowledge of electoral and administrative issues is very important at elections. "The Georgian people should be widely aware of electoral procedures, so we should work in this direction, and the media's role is significant in giving the public full and correct information. All the trainings planned under our project will serve these goals," McGoldrick said.
The Georgian Central Election Commission (CEC) has said it will participate in this project. "We welcome this project and will take an active part in it, as the three things it seeks to achieve, which are facilitation of a revised and agreed electoral code, developing an effective electoral administration and increasing democratic awareness among other stakeholders and the general public, are in our and our country's interests," Nino Goguadze from the CEC suggested. The Chair of ISFED (the International Society for Fair Elections and Democracy) Esa Siradze told
The Messenger
that this organisation will concentrate on assisting the growth of voter awareness of the election process. "We will be one of the implementers of the project and will help increase the electorate's awareness of election procedures and enable them to make a rational decision," Siradze stated.
The project will last 15 months (it began on October 1, 2009 and will end on December 31, 2010). It is funded by the EU and UNDP and ISFED will execute it. It will cost EURO 960,000.