No decision yet taken on Russians buying property, Baghapsh says
By Mzia Kupunia
Thursday, February 25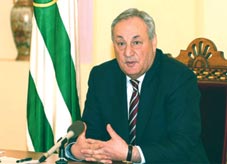 Whether citizens of the Russian Federation will be given the right to buy property in Abkhazia has not been decided yet, de facto President of Abkhazia Sergey Baghapsh said on February 23. His comment followed criticism of this plan by one of the opposition leaders in the de facto Abkhazian republic, Raul Khajimba. Khajimba said that allowing Russian citizens to buy property in Abkhazia could create "serious problems", news agency
Apsnypress
reported.
"The administration of our country does not understand [the risks involved in selling this property], or is intentionally misleading the Abkhazian and Russian public, when making statements about the necessity of equalising the rights of Abkhazian and Russian citizens,"
Apsnypress
quoted Khajimba as saying.
Baghapsh told journalists that, "This issue requires serious thought. There are a lot of proposals in this respect. We will discuss them with the Security Council and opposition and within the Government." He said that selling real estate to Russians had begun long ago. "It is no secret that it is mainly Russians, who have gained Abkhazian citizenship by bypassing the law, who are purchasing houses in Abkhazia," he noted.
The property issue needs to be "thoroughly considered", Baghapsh stated. "We should take into account all the pros and cons. The decision made should be of the greatest possible profit for the state," the de facto President said. "Abkhazia is an independent state, an entity of international law, and should therefore follow international norms. We cannot live in a vacuum, isolated from the rest of the world," Baghapsh added.
The de facto President outlined his plans on February 18, during his visit to Moscow. "There is no special law on this at present, but we will prepare a draft law enabling Russian citizens to buy property in Abkhazia," Baghapsh said at a press conference. "It would solve a lot of problems. Currently citizens of the Russian Federation have to get Abkhazian citizenship in order to buy property in Abkhazia. This should be avoided," he stated.
Abkhazian Government-in-exile members have said that the amendments proposed by Baghapsh are a violation of the Georgian law on the occupied territories. "After Abkhazia returns to Georgia's jurisdiction all these deals and purchases will be annulled and declared illegal," the head of the Cabinet of the Abkhazian Government-in-Exile, Besik Silagadze, said. He said that the Abkhazian Government-in-Exile had begun working on this issue long before the de facto authorities. "We could foresee something like this happening," Silagadze noted.
Sigiladze added that Georgia is planning to inform the international community of the intentions of the de facto Abkhaz leadership. A special NGO will also address the issue of the violation of the property rights of Georgian citizens with property in Abkhazia. "The NGO will help them prepare and submit cases to the international courts to defend their property rights," he told
The Messenger
. He also suggested that deploying international monitors in Georgia's occupied territories would be a way to prevent such property rights violations.