SOCAR continues investing and creating new jobs
By Ana Jakeli
Thursday, February 25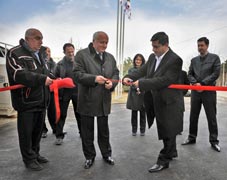 SOCAR recently opened three new petrol stations, in Tbilisi, Borjomi and Dapnari (Samtredia). This is significant in the current climate, when many businesses are refraining from making new investments. SOCAR is not only continuing to invest in Georgia's economy but increasing its financial commitments to the country.
SOCAR Petroleum Georgia Ltd. is planning to invest tens of millions of GEL in petrol stations alone in 2010. It is working on constructing 16 new petrol stations, which will be opened in the summer. Over the next year or year and a half SOCAR will open more than 25 new petrol stations.
The geographical spread of the stations will also increase. Currently the majority (17) of the 32 SOCAR stations are located in Tbilisi, but in the near future this proportion will change due to the construction of new ones on Georgia's main highways. These new investments will naturally increase SOCAR's influence in Georgia's oil products retail market and further engender a strong competitive environment.
The number of new jobs created by SOCAR and its contributions to Georgia's state budget are also increasing. About 400 people are permanently employed in petrol stations alone. SOCAR Petroleum Georgia now provides GEL 450 million to the Georgian budget. Over the last two years SOCAR has been the biggest investor and taxpayer in its field.
Company officials say that SOCAR's success has resulted from adopting the correct anti-crisis strategy, which will continue to make it a more competitive, stronger and successful company when the general economic and financial recession is over. Despite the success of the company it is not able to run permanent social projects but depending on the state of the economy annually conducts charitable and social interventions worth tens of thousands of GEL. Consequently SOCAR is always one of the companies nominated as showing great social responsibility in the competitions held by different organisations.