Saakashvili will answer to the people, says independent MP
By Salome Modebadze
Tuesday, March 2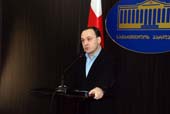 Saakashvili will be sentenced by the Georgian people and will have to answer for all his mistakes, Giorgi Tsagareishvili, an opposition MP, said on March 1 in response to President Mikheil Saakashvili's annual speech to Parliament. At a special briefing held in Parliament Tsagareishvili gave the audience a list of 31 accusations against the President, saying that Saakashvili had only spoken about the promises he has kept in his February 26 speech but neglected the failures of the Government, which have destroyed the country.
Tsagareishvili's accusations included amending the State Constitution to suit the President's purposes, interfering with TV stations, conducting bloody special operations ending with the murder of opponents and their families, spying, intolerance, insulting the elderly, destroying the education system, establishing an effective dictatorship in all spheres of social life, falsification of elections and cracking down on rallies and protests. He also drew attention to the President's treatment of the family of Sandro Girgvliani, who was murdered on January 28, 2006, the establishment of the temporary South Ossetian Administration, which he said implied that Georgia had given up South Ossetia, the sale all strategically important assets to Russia, the dismemberment of the country, human rights violations, the terrible demographic situation, the accumulation of a huge foreign debt, secret privatisations and turning Georgia into a country of drug addicts. "These are the promises which Saakashvili has really kept to his country," Tsagareishvili said.
Tsagareishvili recalled what Giorgi Gabashvili, a ruling party MP, had said about him at the plenary session on February 26 and advised Gabashvili to stop mocking him. He said that he is not at all ashamed of his years in the Interior Affairs apparatus between 1995 and 1999, when he worked at the State Auto Inspection. "Gabashvili is busy studying my past rather than trying to rebuild the destroyed country. I am not ashamed of my years in the system because I committed no crime," Tsagareishvili said, adding that despite his job he was not acquainted with Kakha Targamadze, the former Minister of Interior Affairs, whereas Gabashvili definitely was. "I don't know Kakha Targamadze at all, but the father and son Gabashvili even seem to have been dining with the so-called Iron Minister. I neither greeted him nor thanked him for the falsified elections of those times, unlike Mikheil Saakashvili, who was the leader of the Citizens' Union then," he added.
National Movement MP Nugzar Tsiklauri told
The Messenger
that unfortunately he hadn't attended Tsagareishvili's briefing, but Tsagareishvili is not a serious politician and his list of accusations would have no significance for him even if he knew what was in it.