OSCE Chair makes more promises
By Gvantsa Gabekhadze
Wednesday, March 10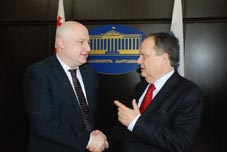 President of the OSCE Parliamentary Assembly Joao Soares paid an official visit to Georgia on March 9. He held meetings with Deputy Chairman of Parliament Gigi Tsereteli and Vice Premier Giorgi Baramidze at which he discussed Russian-Georgian relations, the occupied regions of Georgia and the forthcoming local elections.
At his meeting with Tsereteli Soares confirmed that the OSCE Parliamentary Assembly may adopt a special resolution on the occupied territories of Georgia at its summer session in Oslo. "The OSCE has always recognised Georgia's territorial integrity and will continue assisting the country," Soares said, adding that it will do its best to restore its monitoring mission in Georgia's breakaway regions. "We will try to return our monitors to the conflict regions by achieving a consensus on this among the parties connected with this issue," Soares stated at a press conference following the meeting.
Tsereteli said that the Georgian side will prepare its own resolution for discussion at the meeting in Oslo which will help it gain more effective and serious assistance. Georgia will also present its new strategy towards the occupied regions. "We talked about the occupied territories and the real situation there, the sorts of problems existing in those regions and the problems connected with refugees," Tsereteli said.
Soares and Baramidze also talked about the upcoming local elections. The OSCE Parliamentary Assembly President suggested that the organisation is ready to send monitors to these elections. "I have begun my visit to the South Caucasus in Georgia, and this is a sign that this country is important for us and we support the democratic reforms and moves taking place in the country," Soares said. Baramidze said that, "These elections will be a test of democracy. We should not enable Russian forces to use them to create destabilisation in the country, which is why as many foreign organisations as possible should observe them and thereby ensure they will be as transparent and democratic as they can be," Baramidze stated.
Some opposition parties have said that Soares's visit and the Government's statements are not significant. "When the Government says it will do its best to hold free and democratic elections in the country this is just a PR stunt. As for the OSCE Parliamentary Assembly President's visit and his statement about the possible restoration of monitoring in the conflict region, this is not important for us, as the most important and main aim from our point of view is restoring the territorial integrity of the country," Koba Davitashvili, leader of the People's Party told
The Messenger
. Political analyst Soso Tsiskarishvili told The Messenger that "the OSCE's attitude concerning the occupied regions has already been stated several times. The new statement that the organisation will do its best to restore monitoring there is more a political statement than one oriented on real results. It is similar to those of foreign politicians who underline that they will help Georgia and recognise its territorial integrity but do not take any effective steps to make things happen. I and all Georgian society would be glad if the OSCE keeps its promises, but I am doubtful," Tsiskarishvili said.
Soares is to leave Georgia on March 10. Before then he will have meetings with President of Georgia Mikheil Saakashvili, Minister of Refugees and Resettlement Koba Subeliani, Deputy Foreign Minister Aleksandre Nalbandov, NGOs and civil society figures.