Book presentation
Thursday, March 11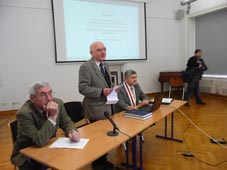 A book published by Marie Leidort GmbH. Radhen/Westf, Germany, was launched at the Goethe Institute Georgia yesterday. The book was written by Rector of the Abkhazian University in Exile Joni Apakidze, who is an IDP from Sokhumi.
The book is entitled "The West and Central Caucasus in the Late Bronze and Early Iron Ages: a Chronology of Kolkhian Culture." The research it contains was undertaken at the Berlin Free University and Tubingen University and financed by the Alexander von Humboldt Foundation.
The launch was attended by His Holiness Patriarch Ilia the II, President of the Academy of Science Tamaz Gamkrelidze, MPs, scholars and specialists. Professor Apakidze expressed his gratitude to all the individuals, institutions and colleagues who have supported this work.