Conservatives outline their foreign policy
By Gvantsa Gabekhadze
Thursday, March 11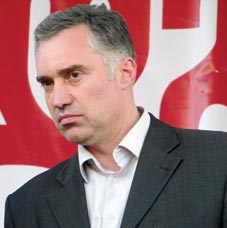 The opposition Conservative Party presented a document on the foreign policy of the country on March 10, which clarifies the party's position on certain issues.
The key points of the document are Russian-Georgian relations and NATO issues. "The main factor in the Georgian-Abkhazian and Georgian-Ossetian confrontations is not ethnic misunderstanding, the decisive role is being played by Russia. Without Russia's goodwill this problem will not be solved. Conflict with Russia has caused a lot of problems in Georgia, especially in the economic direction, and this is why political, economic and cultural relations with Russia should be restored as a precondition for Georgia's economic, and not only economic, advance," says the document.
The document states that collaboration with NATO and some other international organisations should continue but at the present moment being part of such a structure as NATO will be dangerous for the country. "Decisions on such cardinal matters as participation in NATO, declaring neutrality and so on should be made only after creating real conditions in which to make them, based on negotiations with neighbouring countries and consensus among domestic political forces," the document says. Conservative co-leader Zviad Dzidziguri amplified this point. "Everyone should realise that in our present circumstances participation in NATO might be extremely dangerous for us, as if that organisation's military bases are placed on our territory, Georgia will turn into a target for those countries and organisations hostile to NATO. Georgia should have neither a pro-European nor pro-Russian orientation, only a national one," Dzidziguri said.
The Labour party agrees with the basic points in the document. Party representative Nestan Kirtadze has told
The Messenger
that there is no alternative to good relations with neighbouring countries. "The Labour Party has always underlined the importance of good relations with neighbouring countries, especially Russia, which is a great power. As for NATO, this party is against any kind of bases being established on Georgian territory, whether Russian or NATO. Georgia, based on its geopolitics, should be the centre for negotiations between East and West, not a centre of confrontation," Kirtadze said.
The Government and the NATO Information Centre in Georgia have a different view however. "The foreign policy course of Georgia is absolutely clear. Most Georgians desire to join NATO and this has been confirmed by a plebiscite. As for the statements of those politicians who run to Moscow and discuss Georgia's foreign politics with Putin, they cannot influence this process," National Movement MP Goka Gabashvili has said. Tengiz Gogotishvili, chair of the NATO Information Centre in Georgia, said "In several public opinion polls the number of Georgian citizens supporting our country's integration with NATO has never been less than 60% in recent years".
The Conservative Party's statements about joining NATO have been described as "breaking down an open door" by analyst Gia Khukhashvili, who told
The Messenger
, "It does no matter who wants Georgia to join NATO and who doesn't, as NATO's door is closed for us. This will become more obvious as the years go by. I think the Conservatives have decided to underline this already obvious fact due to the position they have found themselves in lately [their alliance with Zurab Noghaideli, who talks to Moscow which is against NATO]," Khukhashvili said.