Kaelin's report on Tskhinvali hailed in Tbilisi and slammed in Moscow
By Mzia Kupunia
Thursday, March 11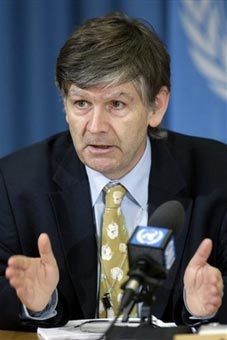 The report of the Representative of the United Nations Secretary General on the Human Rights of Internally Displaced Persons, Walter Kaelin, about the human rights situation in the Tskhinvali region has met with varied reaction in Tbilisi and Moscow. Kaelin, who visited the de facto South Ossetian republic on November 5-6 2009, presented his report at the UN Human Rights Committee session on Monday.
Moscow slammed Kaelin's report, saying that it is "partial, nonobjective and politicised". Russia's Deputy Permanent Representative at the United Nations, Mikhail Lebedev, told journalists that the report contains some factual errors. "There are errors even in the title of the document, which mentions 'Georgia' and not South Ossetia," news agency
RIA Novosti
quoted him as saying.
Lebedev criticised the UN representative for not mentioning the "torture which the Ossetian people faced due to the aggression of Georgia's current regime," Russian news agency
Itar-Tass
reported. He declined Kaelin's claims that humanitarian activities in Georgia's breakaway region of South Ossetia are restricted. "Russia considers defending the rights of all IDPS and ensuring their security and honorable return to their homes important," Lebedev said.
In contrast officials in Tbilisi assessed the document as "positive". Director of the International Organisations Department of the Georgian Ministry of Foreign Affairs Sergi Kapanadze said on Wednesday that Kaelin's report is important for Georgia because he has visited Georgia himself and seen the situation in the Tskhinvali region for himself. "There have been several reports released before, including the report of the UN Secretary General, about the situation in Georgia's occupied regions and the rights of the Internally Displaced People," the MFA representative said. "However Kaelin's report is significant because he himself has visited the region. Kaelin has described quite well the problems existing in the Tskhinvali region and how human rights are being violated there," Kapanadze noted.
Upon his return from a visit to the Tskhinvali region in November 2009 the Representative of the Secretary-General on the Human Rights of IDPs had said, "More pragmatism and less politics are needed to improve the situation of the displaced." "It is estimated that 680 houses, in addition to a number of public civilian installations, were destroyed in Tskhinvali during the armed conflict of August 2008 alone. Many villages were affected, too. Lack of shelter is the main problem faced by those displaced within South Ossetia. Reconstruction is progressing far too slowly," Kaelin noted, according to the UN website. He called on all sides to facilitate the return of all IDPs "regardless of where they live now." Kaelin stated that both sides should use the Geneva discussions and other channels of communication to agree on the first steps to "alleviate unnecessary hardships for the civilian population while continuing to work towards a more comprehensive solution."