IDP assistance project analysed
By Gvantsa Gabekhadze
Monday, March 15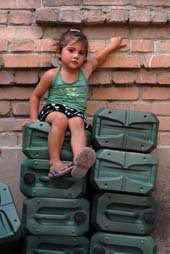 Non governmental organisation Save the Children organised a round table meeting to conclude its ECHO (European Commission Humanitarian Aid) funded project "Psychosocial Support for Conflict-Affected Children and Families" and acknowledge similar important work carried out for children and youth in Georgia by other NGOs and UN agencies at the Courtyard Marriott Hotel on March 12. The meeting was attended by NGOs, various Georgian Ministries and media representatives.
In February 2009 ECHO allocated a further 2 million Euros to continue its relief assistance to the vulnerable victims of the conflict between Georgian and Russia and victims of the conflict in Abkhazia. This assistance involves providing continued protection, clearance of unexploded ordnance, donating non-food items, giving psychosocial support and undertaking other integrated relief activities. Save the Children implemented the project through the ECHO Humanitarian programme in partnership with local NGOs Parents' Bridge, Anika, Biliki, Gori Disabled Club, Disabled Children and Families and Society.
The meeting participants discussed the results, outcomes, gaps and future plans of the programme. "We have been working in different directions, but our focus has been on psychological assistance for those children affected by war, and not only children: we have been conducting special trainings for both them and their parents, so that they understand and can help them overcome fear, aggression and other difficulties imposed by war, and we will continue working in this direction. I should point out that there are no special programmes in Georgian Government institutions for IDP children," Eka Javakhishvili, Project Coordinator, said. The Head of the Child Protection Division of the Ministry of Education and Science confirmed this. "It is true that we have no particular programmes for IDP children, as we assist all Georgian children needing help. GEL 9,200,000 has been allocated from the state budget for 2010 to assist children needing help. The two main ways this money will be used are to support family homes where orphans are brought up in a family environment and day schools, where children with psychological or socialisation problems are taught how to defeat such problems," Gia Kakachia stated.
The meeting identified many problems which are still to be resolved by close relations between the Georgian Government and various NGOs, as Dragan Markovic the UNICEF, said. "UNICEF and the NGOs present today are doing their best to assist the people affected by war, but this alone is not enough. The Georgia's Ministry of Refugees and Accommodation is adopting a new action plan on IDPs, which is a very important step in ensuring better and more effective work in this direction. NGO's have strong information and experience and it will be very profitable for all if the Ministry takes into consideration our suggestions while working on it," Markovic mentioned. Ministry representative Maka Esaiashvili responded by saying, "For the Ministry this action plan is very important. We are planning to have a meeting before the finalisation of the IDP action plan to which all NGOs and other interested parties in this direction will be invited. We will listen to your remarks and suggestions and try to take them into account," Esaiashvili suggested.
NGOs have suggested that the Government launch long-term assistance programmes for IDPs, arrange transport for them (sometimes IDP children cannot attend school because the nearest one is too far away) and address some other not superficially serious problems which might cause bigger problems in future.