ICC-Georgia holds General Assembly
By Messenger Staff
Monday, March 15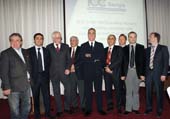 On March 20, 2009, ICC-Georgia held its second annual General Assembly over a dinner at the Radisson Blu Iveria.
The agenda included a presentation on ICC-Georgia's activities in 2009 and strategy and plans for 2010, the approval of the 2009 accounts and the election of eight new Board Members, Chairman, 1st vice Chairman and 2nd vice Chairman/Treasurer. A proposal to make an amendment to the ICC-Georgia bylaws was also passed, under which the 2nd Vice Chairman automatically becomes Treasurer of the organisation.
In his address ICC-Georgia Chairman Fady Asly welcomed the members and listed the Chambers' activities and unique achievements in 2009. Following the elections the new Board consists of the following members:
Mr. Lekso Aleksishvili – Policy Management Consulting Group
Mr. Fady Asly – Agritechnics Holding
Mr. Gilbert Hie – Bank Republic
Mr. Steve Johnson – Hotel Betsy's
Mr. Geno Malazonia – Energy Invest
Mr. Zurab Nikvashvili – Ernst & Young
Mrs. Nona Tordia – JSK Tam-Tbilisi Aircraft Manufacturing
Mr. Guga Tsanava – Georgian Industrial Group
Mr. Fady Asly was re-elected as Chairman and Mr. Gilbert Hie as 1st Vice Chairman and Mr. Zurab Nikvashvili was elected the 2nd Vice Chairman/Treasurer. Each elected board member gave a speech at the dinner, at which all members had the opportunity to interact with each other and express their views.
At the end of the meeting the Chairman thanked all participants and pointed out that with the support of its members, ICC-Georgia will continue to work effectively towards its goals. "We continue to facilitate relationships between members and other ICC National Committees abroad and maintain a dialogue between businesses and government, voice the views of the local business community so as to affect change in policy, strengthen different commissions to better serve the members and focus on tax and customs issues. We will make sure we are always available for members to help resolve any issue which arises and will continue being the leading business organisation in Georgia."
ICC-Georgia is the Georgian national committee of the International Chamber of Commerce, a global business organisation which unites hundreds of thousands of member companies from over 130 countries in a representative body which speaks with authority on behalf of the business world.
(Photo coverage see in the next issue)