Noghaideli suggests IDPs will return
By Gvantsa Gabekhadze
Wednesday, March 17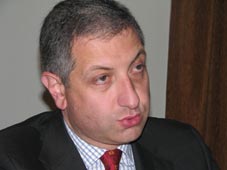 Zurab Noghaideli, leader of the Movement for Fair Georgia, made some interesting statements concerning the return of Georgian IDPs from Akhalgori and the Kodorgi Gorge at the Palace of Professional Unions on March 16 during a meeting between the Conservative Party, People's Party and Movement for Fair Georgia with their supporters.
Noghaideli, who concluded his last controversial visit to Moscow to negotiate with the Russian Government on March 11, said that: "The two main goals of my visit to Moscow were the reunification of Georgia and the restoration of trade relations with Russia. We will soon see that we (the members of the National Council founded on March 16, which are the Conservatives, Movement for Fair Georgia, People's Party, Christian Georgia, Mamulishvili and Party of the Future) will unite Georgia. The first step in this direction will be to return Georgian citizens to the Kodori Gorge and Akhalgori (Gerorgian territories controlled by Russian soldiers at present)," Noghaideli said.
The Messenger
asked Movement for Fair Georgia representative Petre Mamradze whether Noghaideli meant that the IDPs will be returned on a particular foreseeable date or at some uncertain point in the future. "Our Party leader never spreads untimely or false information. When he said flights between Russia and Georgia would be restored for a few days during the New Year this happened exactly as he said it would. Noghaideli is a catalyst in his negotiations with Russia. Russia has expressed a positive attitude to the return of the IDPs but now everything depends on the Government, as our party at the present moment cannot make significant decisions as we have no power to do this. Our party is still negotiating with the Russian Government on this issue but we cannot say definitely that the outcome of these will be positive because the Government's provocative statements could always disturb the process," Mamradze said.
However some Georgian analysts have a different view of Noghaideli's Russian visits. "All Noghaideli's activities can be called parody and nothing more. It seems Putin is Moses and Noghaideli the brother of Moses who voices Moses' opinions. Who is Noghaideli? It's not his business to do this. If Putin wants to tell us something he can say it directly. I would of course welcome positive moves being taken in regard to Kodori and Akhalgori, but any progress cannot be ascribed to Noghaideli," Gia Khukhashvili told
The Messenger
.
Nino Burjanadze, who also held meetings in Moscow on March 4-6, told the March 15 meeting that unlike the Georgian President, who considers himself the winner of the August 2008 war, "Putin called the August 2008 events a tragedy, and expressed a readiness to take real steps to restore relations, though this is impossible when the present Georgian Government makes provocative statements every day." She added that when the Government does nothing to improve relations with Russia each politician and Georgian citizen should do their best to achieve this to prevent a repeat of August 2008.
The Georgian Government has stated several times that Noghaideli and Burjanadze are traitors and their visits to Moscow "anti-Georgian".