Turkey imposes new transit fee
By Mzia Kupunia
Thursday, March 18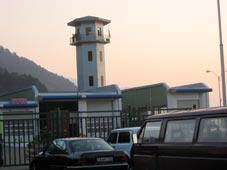 Citizens of Georgia will have to pay transit fees in Turkey from May 1, 2010, the Georgian Foreign Ministry stated on Wednesday. Under the new regulation issued by the Turkish Transport Ministry all vehicles able to carry cargo – those with closed container sections - and those with temporary or foreign number plates and which cross Turkish territory to enter another country will be obliged to pay fees, Director of the Georgian Foreign Ministry's Consular Department Giorgi Tabatadze said. This category includes also minibuses without seats or windows, the MFA official stated at a special media briefing.
The transit fee for loaded vehicles will be Euro 1,200 and for empty ones Euro 600, according to the Georgian Foreign Ministry. "The regulation of the Turkish Transport Minister refers not only to citizens of Georgia, but all others, including the Turkish citizens, whose vehicles have temporary or foreign number plates," Giorgi Tabatadze told journalists. He said the Turkish side had cited the "significant" rise of cargo transit by refitted minibuses, whose seats and windows have been taken out, as the reason for introducing a new transit fee.
"As the Georgian side and citizens of Georgia were not informed about the new regulation in time the Turkish Transport Ministry has exempted Georgian citizens from the new transit fee until May 1, 2010 as an exceptional case," Tabatadze of the MFA stated, adding that for the citizens of other countries the regulation came into force on March 1.
Tabatadze suggested that the new decision will cause certain problems for Georgian citizens. "It could cause significant problems for Georgian citizens who travel to European countries through Turkey on minibuses transformed into cargo vehicles, which have transit under plates." However the United Transport Administration of Georgia clarified on Wednesday that the new fees do not apply to all types of vehicles. "The new fee does not refer to vehicles carrying tourists in Turkey," head of the United Transport Administration Levan Chichinadze said. He added that the new fee does not alter trade and transit relations between Turkey and Georgia.
Economic analysts and United Transport Administration officials suggest that the decision of the Turkish Transport Ministry will increase the prices of imported vehicles. Analyst Kakha Jakeli said that a way out could be bypassing the new fee by importing by sea. He suggested that by imposing the new transit fee the Turkish authorities are trying to satisfy Turkish cargo carriers.
Analyst Gia Khukhashvili has said that protectionist policies are characteristic of the Turkish administration, however as Turkish and Georgian officials say they have a "special strategic partnership" imposing the new transit fee looks "strange". "I would refrain from making any predictions for now, when there is no detailed information about the fee, however I think the Georgian side will also take some measures. Georgia is a transit route for Turkey to Azerbaijan and the Central Asian countries. It is possible that Georgia will also introduce fees for transit," Khukhashvili told
The Messenger
.