Slovakia wants to invest in Georgia
By Salome Modebadze
Thursday, March 18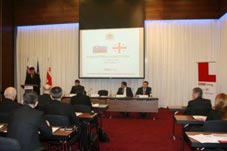 A delegation of Slovak businessmen led by that country's Foreign Minister Miroslav Lajcak attended a joint forum with Zurab Pololikashvili, Georgia's Minister of Economic Development, and the Georgian business sector on March 17. The delegation had arrived in Georgia to study the business environment here and expressed an interest in making investments in the country and establishing further cooperation between the two sides.
"This visit to Georgia is part of our tour of the South Caucasus countries. This is a really important region for Europe, especially within the framework of the Eastern Partnership. The main goal of this visit is to share our economic experience with Georgia, which is just starting to take steps forward, and also intensify our political negotiations and express our full support for the sovereignty and territorial integrity of your country," said Miroslav Lajcak, adding that the visit of the Slovak delegation was also a sign of the country's support for Georgia's integration with NATO and the European Union.
The Slovak businessmen expressed an interest in investing in the agricultural sector, tourism, construction, infrastructure, telecommunications etc. "Slovakia is an EU member country and thus cooperation with Slovak companies is very crucial in promoting Georgia's entry to the EU. Our main aim is now to encourage them to launch all the projects they've become interested in conducting in our country. All the results of this visit will be summarised by the end of the day and we hope that it will become an important step in successfully establishing closer relations with Slovakia," Zurab Pololikashvili told the media before the forum began.
Representatives of the Georgian and Slovak business sectors made presentations on the investment environment and possibilities of the two countries and shared their interests in order to identify possible areas of cooperation. Zurab Pololikashvili said that the first Georgian-Slovak business forum was an important step in intensifying the relations between the sides. Miroslav Lajcak spoke about a possible agreement to abolish dual customs duties on goods moving between Georgia and Slovakia but hesitated to give an exact date for this. Trade between the two countries was worth USD 3 million last year, and consisted of a small amount of citrus fruit and nuts being exported from Georgia while chemicals and cars came the other way.
The Slovak Foreign Minister also visited the Tserovani IDP settlement, which has been affected by recent flooding, and attended the launch of special English language and computer courses for residents aged 14-18 on the same day. "Slovakia will finance courses for the IDPs. I wanted to visit this settlement and talk to the local people personally," Miroslav Lajcak said, adding that Slovakia is always ready to support Georgia in a variety of ways. Koba Subeliani, the Minister of Refugees and Resettlement, said such classes and also conflict resolution courses have also been established for Abkhazian children living in Tbilisi.
"Here we are seeing wonderful results which have no precedent in the whole world. That's not simple self-congratulation, as these results have been produced by real hard work in this direction. The Government of Georgia has managed to provide Tserovani dwellers with all the modern facilities important for a normal lifestyle so that foreign countries have more motivation to do more for all these people," Subeliani stated.