UN Secretary General comments on Georgia in Moscow
By Mzia Kupunia
Friday, March 19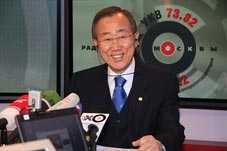 Maintaining peace and stability in Georgia's conflict regions is one of the UN's priorities, its Secretary General Ban Ki-Moon, on an official visit to Russia's capital, said on March 18. Speaking live on the
Echo Moskvy
radio talk show 'Interview' Ban Ki-Moon said "certain progress" had already been made in this respect.
Asked by journalist Aleksey Venediktov which side he had been on during the Russian-Georgian war a year and a half ago the UN Secretary General said that the UN has been trying to take "all possible measures" to ensure peace and security in the region. "Discussions are being held in Geneva, between members of the United Nations and the European Union, Russia and other sides, in order to promote peace and stability in the region," Ban Ki-Moon stated "We will continue working on this issue. There have been certain improvements in terms of crisis management and the incident response mechanism has been set up in order to prevent a new crisis. This is a very important aspect. Recently I have appointed a representative of the UN to participate in the Geneva talks with the interested parties," the UN Secretary General said.
When asked whether the UN would deploy its forces in Georgia's conflict regions Ban Ki-Moon said "maximum efforts" should be made to support stability in the region in the "current conditions" [in the absence of UN peacekeeping forces]. "Negotiations have been held between the UN, EU, Russia and other parties, in the absence of UN peacekeeping forces in this region, on how we can prevent any unnecessary crisis which might occur," the UN Secretary General noted. "As a result of discussions at the UN Security Council last year the UN peacekeeping operation was terminated. That's why it is absolutely necessary to make efforts to maintain peace and stability in this region in the current conditions. We continue to discuss this issue with all the main interested sides," he added.
The UN peacekeeping mission was not that effective even when it was deployed at the administrative border with Abkhazia, military analyst Irakli Aladashvili has said. "The United Nations now should try to force Russia to withdraw its troops from Georgia's territories," Aladashvili told The Messenger. "Peace is more or less maintained in the conflict zones, however we are in the position of a defeated country. The international community should take a firm position in relation to Russia, which is not the case right now," he noted. UN member states have their own economic interests in Russia, Aladashvili said, "so they take Moscow's position into account."
Russia vetoed a UN resolution on extending the UN peacekeeping mission in Georgia in June 2009 , terminating a 15-year-long mission in the country.