Georgia will rationalise its military once again
By Salome Modebadze
Friday, March 19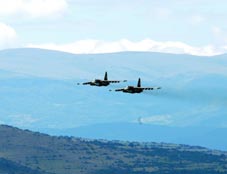 The Defence and Security Committee of Parliament held a joint meeting with Bacho Akhalaia, the Minister of Defence, and other MoD officials at an outdoor session at the Vaziani military base on March 17. The changes in the draft law "On the Defence of Georgia" concerning improvements in the structure, management and control of the Georgian Armed Forces were the main issue discussed.
"There is a need to develop swift responding, flexible and operative troops and this can be achieved by merging the two components of the Army under a single staff to ensure better cooperation. We have already finished negotiations within the Ministry and the military staff so the only thing left to do is to introduce the Bill to Parliament for further discussion," Bacho Akhalaia told the media after the Committee Session, explaining that the joint discussions had included those on improving the Army's overall management.
The Georgian Army is composed of both land forces and the air force, according to Georgian law. The Ministry of Defence amendment discussed at Vaziani would integrate the air force with the land forces to improve the interoperability of both. The draft law doesn't impose any financial obligation or additional expense on the country as the Georgian Armed Forces will still have the same components.
Givi Targamadze, Head of the Security and Defence Committee, said Georgia is not a pioneer in this particular area, giving the example of Canada, which has strategic aviation even though the Canadian Air Forces Aviation Command does not operate separately. "The unification proposed in the draft law "On the Defence of Georgia," by no means implies a reduction in military staff. The air force will not exist as a separate structural component of the Army simply because we don't need an artificial staff. Experience gained during the war in particular has proved that the main function of the air force is to support the operations of land forces," Targamadze said, adding that the Committee welcomed the upcoming amendment which will simplify the management of all military operations.
Irakli Aladashvili, a military analyst, shared his concerns about this amendment with The Messenger. "Georgia, like every other country, should have three forces, air, land and marine, which it did have from 1992 to 2008. It was just after the August War when the Government of Georgia abolished the marine force by submitting it to the Ministry of Internal Affairs Border Police Department and making it part of the land force. People say that all these changes in the forces are aimed at reducing the staff expenses but professional aviators worry that integrating the air force with the land force will diminish the importance of aviation, which will remain with no prospects for generations," Aladashvili told us.