GEOGIE 2010 conference begins
Thursday, March 25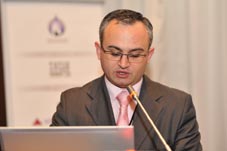 GEOGIE, the Georgian International Oil, Gas, Infrastructure and Energy Conference, began yesterday at the Radisson Blu Iveria Hotel. The key note address was delivered by Georgia's Minister of Energy Alexander Khetaguri who welcomed the participants as did Head of the EU Delegation to Georgia Per Eklund, who highlighted the importance of such a convention for Georgia and the region.
Graeme Coombes, Head of Oil and Gas for the event organiser ITE, said: "I'm looking forward to a very successful GIOGIE in 2010. The conference will benefit from the move to a new venue. It has a detailed programme and increased levels of official endorsement. The political and economic uncertainties which dominated conversation amongst participants last year have not completely dissipated but looking at the calibre of speakers, sponsors and delegates, it is clear that Georgia plays an important role in the region's energy sector and there is obviously much business to be done here."
The conference programme featured debates and presentations on a range of issues including the Southern Gas Corridor, the diversification of energy supply, inter-Governmental cooperation to ensure secure energy supplies and the technical challenges of transporting oil and gas to European markets. Issues discussed on the first day included recent development in Georgia's oil, gas and energy sectors; securing gas supplies for the Southern Gas Corridor; opportunities for strengthening inter-Governmental cooperation on energy security in the Caucasus; how the Georgian oil and gas infrastructure helps address the technical challenges of transporting Caspian oil and gas to Europe; Georgia's own energy supply; the Georgian transport corridor and making the transition from regional to EU energy structures. The accession of Georgia to the energy community was also on the agenda.
GEOGIE 2010 will conclude today.