Christian Democrats want protection for Georgian Airlines
By Messenger Staff
Friday, March 26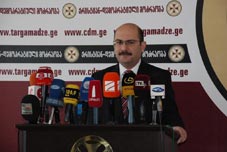 On March 25 Nika Laliashvili from the Christian Democrats held a special briefing at which he demanded that 40% of the domestic air carriage market should be reserved for Georgian Airlines. Laliashvili stated that the Government should pay more attention to the development of Georgian companies as increases in employment and the state budget depend on them.
The MP accused the Government of conducting anti-Georgian policy in this field and said that the most qualified and professional pilots were being forced to work for African airlines in order to keep their families. "We lose thousands of jobs and millions in budget income because of this," he added.
Laliashvili said that the Government is doing its best to destroy national civil aviation, in particular by signing agreements which enable foreign airlines to conduct flights to and from Tbilisi without any obstacles. He said that foreign companies occupy 80% of the Georgian aviation market but employ only 50 persons and contribute no funds to the budget. Georgian Airlines employs over 1000 persons and pay millions of GEL to the budget.
"Every country in the world tries to create a privileged environment for its own airlines and at the same time avoid restraining foreign airlines. However in practical terms the Government of Georgia is strangling the national airline and offering better conditions to foreign ones," Laliashvili stated.
The Christian Democrats believe that reserving 40% of the market for Georgian Airlines will resolve this problem and thus Georgian pilots will no longer have to seek employment in foreign countries.