NATO affirms support but with the usual conditions
By Salome Modebadze
Monday, March 29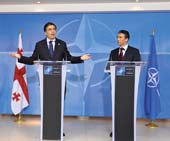 President of Georgia Mikheil Saakashvili held a meeting with NATO Secretary General Anders Fogh Rasmussen following the European People's Party Summit in Brussels on March 25. The Georgian National Movement, led by Saakashvili, has observer status within the European People's Party. The two sides discussed relations between Georgia and NATO, which welcomed Georgia's active engagement in the Afghanistan military operation.
"The policy of the Alliance towards Georgia remains the same. The decision made at the Bucharest Summit in 2008 is still in force and Georgia will by all means become part of NATO when it is ready for this step," Anders Fogh Rasmussen said at the briefing.
"I don't think it is necessary to establish any deadline regarding this. There are a lot of interconnected issues involved. The situation is changing fast in our country and we need to finish our domestic task first and wait for the results," Saakashvili said, stressing that the occupation of Abkhazia and South Ossetia shouldn't become an obstacle for Georgia's integration into NATO as it will soon be overcome through active collaboration.
Rasmussen expressed the Alliance's support of Georgia's territorial integrity, saying that the allies are strictly keeping to the non-recognition policy. He said that NATO has appealed to Russia to fulfill its obligations under the 6-point ceasefire agreement and let international observers work on the whole of Georgian territory. "I fully approve of the Government of Georgia's Strategy on the Occupied Territories, encouraging the sides of the conflict to draw closer to each other and not isolate themselves," Rasmussen noted.
"I'm really grateful that the door of the Alliance became open for Georgian officials just after your appointment as Secretary General. The fact that we are engaged in the Afghanistan Mission demonstrates that NATO-Georgian relations have never been so intensive. It's a real luxury for us to send our small but professional Army abroad. We realise the risk and responsibility of the mission, but Georgian soldiers are absolutely aware of their merit," Saakashvili said, suggesting that NATO could also train Afghan policemen in Georgia and use Georgia's territory for transit purposes. "The Georgia-NATO Commission is an important tool for making our cooperation more successful by properly using it," he added.
Anders Fogh Rasmussen expressed his hope that relevant electoral and constitutional codes will also soon be developed in Georgia as specified in NATO's Annual National Action Plan for Georgia which seeks to develop democracy in the country. He further stressed that the upcoming local elections will be a major step forward for Georgia and accepted President Saakashvili's invitation to visit Georgia, though without giving an exact date.
Political analyst Soso Tsiskarishvili told
The Messenger
that the promises made by Rasmussen to Saakashvili are another expression of NATO's kind attitude to Georgia. "NATO hasn't changed its policy and keeps on proving that its door is open for Georgia, but only in return for establishing democratic standards within the country. Unfortunately the members of the Government of Georgia find democracy their major enemy as it could remove them from their positions in society. So it was not at all difficult to predict that this meeting would be another failure in this direction. Only a fool or a false pragmatist can say that there is some hope of Georgia's integration with NATO, which is of course embarrassing," Tsiskarishvili told us.