Is Gachechiladze holding secret talks?
By Gvantsa Gabekhadze
Tuesday, March 30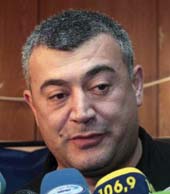 Negotiations to identify the common opposition candidate for the Tbilisi Mayoral elections are still ongoing, leader of Defend Georgia Levan Gachechiladze stated on March 29. However some opposition parties presumed to be involved in these talks have not confirmed that they are even taking place.
"I have still not made a decision concerning the upcoming Tbilisi Mayoral elections. All I can say is that negotiations to reveal the common opposition candidate are still going on. However I cannot say which opposition leaders I am talking to at the present moment," Gachechiladze said. The existence of such negotiations has been confirmed by leader of the Democratic Movement-United Georgia Nino Burjanadze. "I have information not only on what is going on in the opposition but what is going on in the Government. Negotiations between all the important opposition forces involved in the local government elections are taking place, just wait and see how this process will end," Burjanadze said. However the National Council, which consists of the Conservatives, People's Party, Movement for Fair Georgia, Christian Georgia, Party of the Future and Patriots Party, implied it is not taking part in closed talks with Gachechiladze. "To maintain contact with other opposition groups is very important, but any collaboration should be transparent. If Levan Gachechiladze had wanted to collaborate with the National Council he could have done so until March 28. The National Council has already revealed the three people who have nominated themselves as prospective common candidates and the most popular will be nominated as the candidate on April 9. We are not going to change this decision or our methods," Koba Davitashvili, Leader of the People's Party, told
The Messenger
.
The Alliance for Georgia has directly denied that there are any talks taking place. "The matter of identifying the common opposition candidate is closed for the Alliance and no negotiations are taking place with Gachechiladze on this issue," Viktor Dolidze from the Alliance stated, also rejecting suggestions that the Alliance had offered Gachechiladze the leadership of the Alliance for Georgia in return for him supporting Irakli Alasania's candidacy for Tbilisi Mayor. Kakha Shartava, leader of the National Forum, commented, "Gachechiladze loves pulling surprises and unusual decisions are also very characteristic of him. I do not exclude the possibility that Gachechiladze might announce his candidacy for Tbilisi Mayor."
Analyst Gia Khukhashvili has told
The Messenger
that Gachechiladze's decision will have a significant effect not only on the rest of the opposition's plans but his own political future. "Levan Gachechiladze is a very important political figure and it is very important what he will decide. It is not good that he is delaying making his decision, as this creates rumours that some trading is taking place, which I do not believe is true as all Gachechiladze's activities are based on pure patriotism. I think he should make a decision as quickly as possible. However if he nominates his candidacy this will not be profitable for the opposition, in spite of his high rating, as he will split an already divided opposition even further," Khukhashvili said.
"Supporting one of the candidates without any conditions will be the most sensible decision he could make, as this will once again show the Georgian public that his actions are based purely on patriotism and make him a more significant political figure even after the local elections and one of the most serious candidates at the next Presidential election," Khukhashvili suggested.